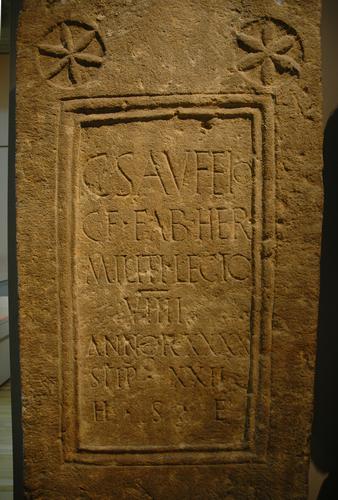 Description

Tombstone of Gaius Saufeius from Lincoln

Details

G(aio) Saufeio
G(ai) f(ilio) Fab(ia tribu) Her(aclea)
militi legio(nis)
VIIII
annor(um) XXXX
stip(endiorum) XXII
h(ic) s(itus) e(st)

Gaius Saufeius, son of Gaius, of the Fabian voting-district, from Heraclea, soldier of the Ninth Legion, 40 ars old, of 22 years' service, lies here.

Date

55 CE–77 CE

Creator

Museum

Licence

Linked

Categories

Tags
High-resolution versions of our original photographs are available for purchase for you to use in printed publications or elsewhere. Contact us for further information. Be sure to make a note of the URL of the photos you are interested in. We do not sell these photos for profit, only to cover the maintenance costs of the website.