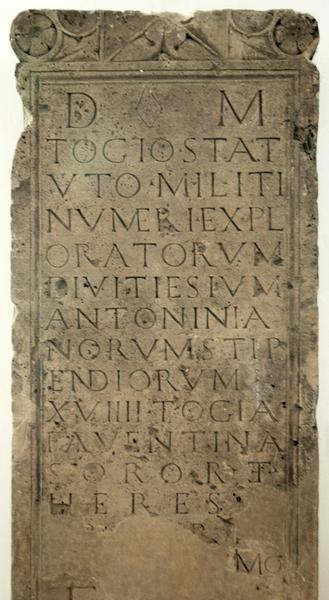 Description

Tombstone of Togius Statutus, explorator in a military unit named after Divitia.

Details

D(is) M(anibus)
Togio Stat-
uto militi
numeri expl-
oratorum
Divitie(n)sium
Antoninia
norum stip-
endiorum
XVIIII Togia
Faventina
soror et heres
[fra]tri
[carissi]mo(?)
f(aciendum) [c(uravit)]

To the spirits of the deceased
To Togius Statutus,
a soldier of the
unit of Scouts
from Divitia,
the Antonini- ans, who
served
nineteen years, [ordered] Togia
Faventina
his sister and heir,
for her dearest
brother
this to be erected.

CIL 13.7054

Date

ca. 211 CE–ca. 235 CE

Creator

Museum

Licence

Linked

Categories

Tags
High-resolution versions of our original photographs are available for purchase for you to use in printed publications or elsewhere. Contact us for further information. Be sure to make a note of the URL of the photos you are interested in. We do not sell these photos for profit, only to cover the maintenance costs of the website.