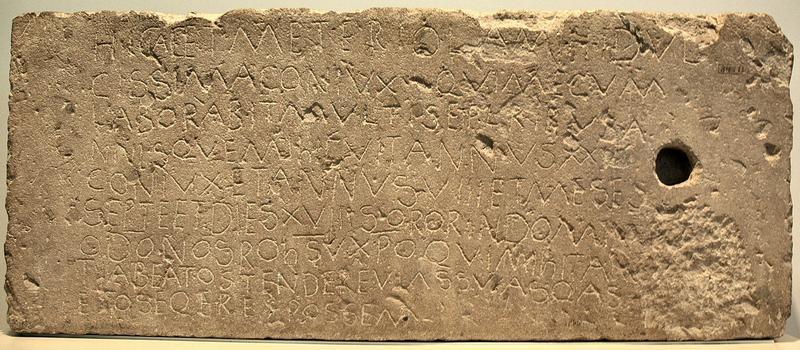 Description

The Meteriola inscription (13.7813)

Details

HIC IACET METERIOLA MIHI DVL-
CISSIMA CONIVX QVI MECVM
LABORABIT MVLTIS E PLRIBVS A-
NNIS QVE MIHI FVIT ANNVS XXIII
CONIVX ET ANNVS VIII ET MESES
SEPTE ET DIES XVIII SOROR IN DOMIN-
O DO NOSRO hSV XPO QVI MIHI FAN-
TI ABEAT OSTENDERE VIAS SUAS QAS
ESTO SEQERE POSSEM

After correction of some spelling mistakes (in green) and completing the abbreviations, we can read this text as a poem in hexameters:

Hic iacet Meteriola mihi dulcissima coniunx,
quae mecum laboravit multis et pluribus annis,
quae mihi fuit annos tres et viginti coniunx et annos
octo et menses septem et dies duodeviginti
soror in domino Deo nostro Hiesu Christo
qui mihi tanti habeat ostendere vias
suas, quas -esto!- sequi possem.

Which can be translated as follows:

Here rests my my sweetest wife Meteriola,
who worked with me for many and even more years, 
who was for twenty-three years my wife
and for eight years, seven months, and eighteen days
my sister in the Lord, our God Jesus Christ.
May he deem me worthy to show me His ways,
which - so be it! - I will try to follow.

Date

ca. 400 CE–ca. 500 CE

Creator

Museum

Licence

Linked

Categories

Tags
High-resolution versions of our original photographs are available for purchase for you to use in printed publications or elsewhere. Contact us for further information. Be sure to make a note of the URL of the photos you are interested in. We do not sell these photos for profit, only to cover the maintenance costs of the website.