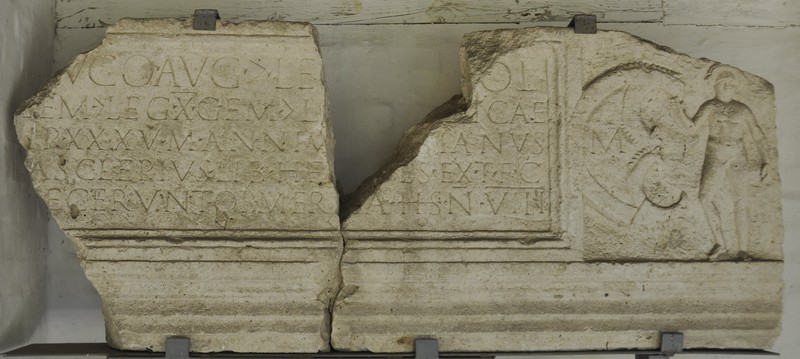 Description

Tombstone of M. Annius (EDCS-48300115)

Details

D(is)] M(anibus)
[M(arcus) Annius M(arci) f(ilius) Gal(eria) ...l]uco Aug(usti) |(centurio) le[g(ionis) XV Ap]ol(linaris)
[... |(centurio) leg(ionis) VII] Gem(inae) |(centurio) leg(ionis) X Gem(inae) |(centurio) l[eg(ionis) III Gall]icae(?)
[annor(um) ... st]ip(endiorum) XXXV M(arcus) Anniu[s ...]sianus
[et] Asclepius lib(erti) he[red]es ex t(estamento) f(aciendum) c(uraverunt)
[... f]ecerunt ob mer[it]a HS n(ummum) VIII(milia)

Creator

Museum

Licence

Linked

Aquincum, Legio III Gallica, Legio VII Gemina, Legio X Gemina, Legio XV Apollinaris

Categories

Tags
High-resolution versions of our original photographs are available for purchase for you to use in printed publications or elsewhere. Contact us for further information. Be sure to make a note of the URL of the photos you are interested in. We do not sell these photos for profit, only to cover the maintenance costs of the website.