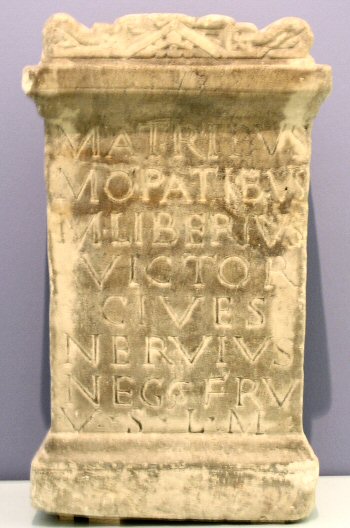 Description

Dedication to the Mopatian Mothers by Liberius

Details

MATRIBUS
MOPATIBUS
M[arcus] LIBERIUS
VICTOR
CIVES
NERVIUS
NEG[otiator] FRU[mentarius]
V[otum] S[olvit] L[ibens] M[erito]

To the Mopatian mothers had Marcus Liberius Victor, a Nervian citizen and a grain trader, fulfilled his vow, willingly, as it should.

Creator

Museum

Licence

Linked

Chaussée Brunehaut ("Via Belgica"), Germania Inferior (7), Noviomagus (Nijmegen), Sambra (Sambre)

Categories

Tags
High-resolution versions of our original photographs are available for purchase for you to use in printed publications or elsewhere. Contact us for further information. Be sure to make a note of the URL of the photos you are interested in. We do not sell these photos for profit, only to cover the maintenance costs of the website.