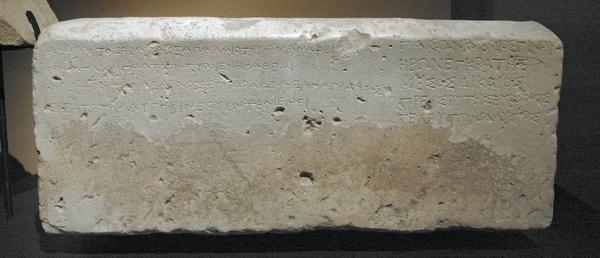 Description

Inscription from Cineas' monument

Details

These wise words of ancient men are set up,
utterances of famous men, in holy Delphi.
Clearchus copied them carefully and set them up,
shining from afar, in the sanctuary of Cineas:

As a child, be orderly,
As a youth, be self-controlled,
As an adult, be just,
As an old man, be of good counsel,
When dying, be without sorrow.

Inscriptionnr

- (Greek)

Creator

Museum

Licence

Linked

Categories

Tags
High-resolution versions of our original photographs are available for purchase for you to use in printed publications or elsewhere. Contact us for further information. Be sure to make a note of the URL of the photos you are interested in. We do not sell these photos for profit, only to cover the maintenance costs of the website.