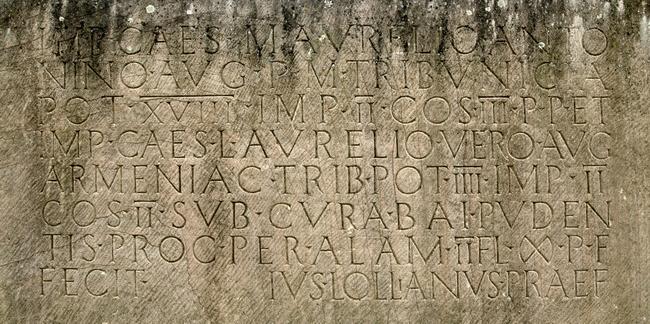 Description

Building inscription (copy of EDCS-06100462)

Details

Above the entrance of the ancient settlement was an inscription, of which three fragments survive. Because the contents of this type of inscription are fairly stereotypical, almost the entire text can be reconstructed (three fragments in color, reconstruction in gray):

IMP.CAES. M.AVRELIO. ANTO
NINO.AVG. P.M.TRIBVNICIA
POT. XVIII. IMP.II. COS.IIII. P.P. ET
IMP. CAES. L.AVRELIO.VERO.AVG
ARMENIAC.TRIB.POT.IIII.IMP.II
COS II. SVB.CVRA.BAI.PVDEN
TIS. PROC. PER. ALAM. II FL. (X). P.F.
FECIT. [....]IVS. LOLLIANIVS. PRAEF

IMPeratori CAESari Marco AVRELIO ANTO-
NINO AVGusto Pontifici Maximi TRIBVNICIA
POTestate XVIII IMPerarori II COnSuli IIII Patri Patriae ET
IMPeratori CAESari Lucio AVRELIO VERO AVGusto
ARMENIACo TRIBunicia POTestate IIII IMPeratori II
COnSuli II SVB CVRA BAI PVDEN-
TIS PROCuratoris PER ALAM II FLaviam Miliariam Piam Fidelem
FECIT [....]IVS LOLLIANIVS PRAEFectus

Overseen by procurator Baius Pudens has prefect< [...]ius Lollianus ordered the Second Flavian thousand-man squadron, faithful and loyal, to build this for the emperor Caesar Marcus Aurelius Antoninus Augustus, high priest with tribunicial powers for the eighteenth time, twice imperator, four times consul, father of the fatherland, and for Caesar Lucius Aurelius Verus Augustus Armeniacus, with tribunicial powers for the fourth time, twice imperator, two times consul.

Date

ca. 165 CE

Inscriptionnr

EDCS-06100462

Creator

Museum

Licence

Linked

Categories

Tags
High-resolution versions of our original photographs are available for purchase for you to use in printed publications or elsewhere. Contact us for further information. Be sure to make a note of the URL of the photos you are interested in. We do not sell these photos for profit, only to cover the maintenance costs of the website.