Thermopylae (Θερμοπύλαι; "Hot Gates"): small pass in Greece, site of several battles.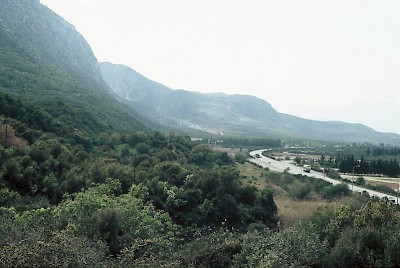 The Third Sacred War broke out in 355 BCE, when Thebes tried to benefit from the difficulties in Athens, which had just lost the Social War. Thebes prepared to attack Phocis, which was more or less up for grabs. The Phocians, however, expected the attack, captured Delphi and took all the gold that was there, hiring a large mercenary force.
The first round of war was much to the advantage of the Phocians, but after one year, Thebes was able to seize the initiative again. Phocis now allied itself to Pherae in Thessaly, which changed the balance of power in that northern region. Larisa, which felt threatened by the coalition between Phocis and Pherae, invited king Philip of Macedonia to come to its assistance.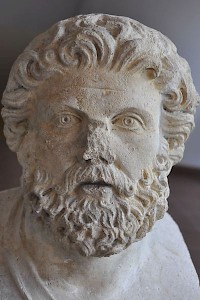 Philip was only too willing to help, and was defeated; but in 352, he was back, and overcame the Pheraeans and Phocians in the battle of the Crocus Field, effectively uniting Thessaly and Macedonia in a personal union. He now proceeded to Delphi, which he wanted to liberate from Phocian control, and moved to central Greece, where he had to fight himself a way through Thermopylae. The story is told by Diodorus of Sicily:
Phaÿllus, the general of the Phocians after the death and defeat of his brother, effected another revival of the affairs of the Phocians, then at a low ebb on account of the defeat and slaughter of their soldiers. For since he had an inexhaustible supply of money he gathered a large body of mercenaries, and persuaded not a few allies to co-operate in renewing the war. In fact, by making lavish use of his abundance of money he not only procured many individuals as enthusiastic helpers, but also lured the most renowned cities into joining his enterprise. [... Meanwhile,] Philip put an end to the tyranny in Pherae, and, after restoring its freedom to the city and settling all other matters in Thessaly, advanced to Thermopylae, intending to make war on the Phocians. But since the Athenians prevented him from penetrating the pass, he returned to Macedonia, having enlarged his kingdom not only by his achievement but also by his reverence toward the god.note[Diodorus of Sicily, World History 16.37.1-2, 38.1-2; tr. C.L. Sherman.]
We know that the Athenian army was about 5,000 hoplites and 400 horsemen strong, commanded by Nausicles. The battle is also referred to by Demosthenes note[Demosthenes, On the False Embassy 319.] and by Justin,note[Justin, Epitome 8.2.8‑12.] but they add little information.