This page is a stub. It will be expanded to a full-fledged article.
Peristyle
Peristyle (Greek περίστυλιον): colonnade surrounding a courtyard or garden.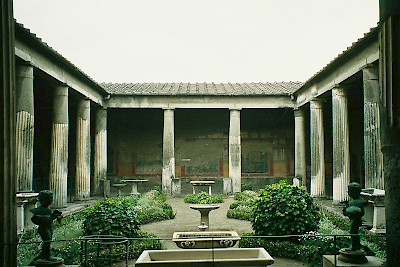 A peristyle is, essentially, a colonnade that hides a wall surrounding a garden or another piece of land. Because there are columns in front of the wall, the court looks nicely. The first peristyles were added to Greek private houses in the fourth century BCE (e.g., Pella), but you can also find them surrounding the palaestra near a city's gymnasium, the gardens of a public library, near a theater, a sanctuary, and so on.
The Romans constructed peristyle-gardens behind their atrium-houses. The House of the Vettii in Pompeii is the example of a house with a peristyle. Synagogues and churches would have peristyles where the faithful could gather prior to the services. Palaces and the grand villas of wealthy people are often best conceptualized as sets of peristyles to which rooms were added (e.g., Piazza Armerina).