This page is a stub. It will be expanded to a full-fledged article.
Prusias II the Hunter
Prusias II the Hunter: king of Bithynia (r.182-149 BCE).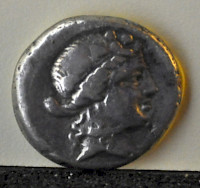 Prusias II, son of Apame III and Prusias I the Lame, was born in about 220 BCE and succeeded to the Bithynian throne in 182 BCE. As an ally of king Eumenes II Soter of Pergamon, he immediately found himself in a war against with Pharnaces I of Pontus. When peace was concluded in 179, Bithynia had gained influence in Paphlagonia.
In the next year, Prusias married Apame IV, a sister of king Perseus of Macedonia.
In 156, Prusias would attack his former ally Pergamon, but was defeated by its king Attalus II Philadelphus and his ally Mithridates IV of Pontus, and had to pay an indemnity of 500 talents. After a palace intrige, Prusias was forced to resign in favor of Nicomedes II Epiphanes, a son of his first wife Apame, and was killed almost immediately after his abdication (149 BCE).