Lake Gyges (Greek: Γυγαíη λíμνη): lake in western Turkey, northwest of Sardes.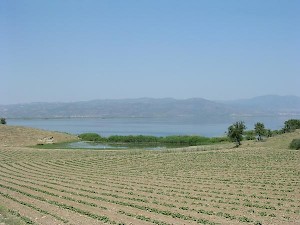 Lake Gyges is mentioned in Homer's Iliadnote[Homer, Iliad 20.391.] and this name has been taken as evidence that at least a part of the famous poem was written after the reign of Gyges, who was king of Lydia from about 680 to 644 BCE. However, this point cannot be forced. If Γυγαíη is indeed a rendering of a Lydian name, which is by no means certain, it is still possible that the Greeks rendered two different names identically, or that two individuals had the same name.
Nowadays, the lake is called Marmara Gölü.