Mushabbak or Mushabbaq: town in northern Syria, one of the "Dead Cities", best know for its perfectly preserved ancient church.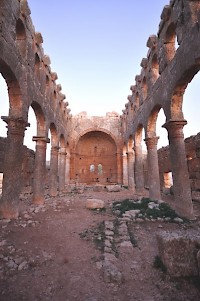 West of Aleppo are the Dead Cities: ancient agricultural settlements where food was produced for larger cities in the neighborhood: Cyrrhus, Beroea (modern Aleppo), Apamea, Laodicea, Seleucia, Alexandria, and Antioch. A part of the production may have been exported beyond the Syrian borders. The villages must have been lively places, but when the big cities declined, the farmers had no other option than to leave business. The towns were abandoned and there was no one left to recycle the stones. Many buildings are still standing, perfectly preserved, in a region that has only recently attracted inhabitants again.
The basilica church of Mushabbak (or Mushabbaq) is one of these monuments. It was probably built in the third quarter of the fifth century, and is essentially complete: if windows and a wooden ceiling were added, the building is restored. The three naves measure about 18x12 meter; there is not much decoration; and the building has many windows.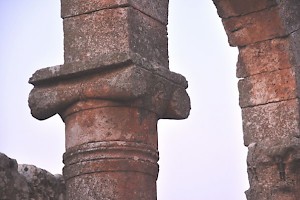 It is not known who was venerated here, but perhaps that is the wrong question. The church is situated along one of the main roads to the sanctuary of Saint Simeon, which was at this moment rapidly growing. It is possible that the church of Mushabbak was some sort of way-station for the pilgrims.
We arrived there late in the afternoon; the sun was setting, and we were distracted by the young shepherd who arrived with his flock, carrying a lamb that was born only minutes before our arrival.
Literature
Ross Burns,

Monuments of Syria. An Historical Guide

(1992, 19993)