Tolosa: (Greek Τολῶσσα): capital of the Volcae Tectosages in southern Gaul, modern Toulouse.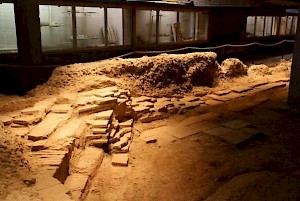 About five-hundred meters from the amphitheater of Tolosa are the south thermae which were preceded by a palaestra including a natatio that is to say a swimming pool. Fairly well preserved, it has been possible to maintain it in the cellar of a building in Ancely.

The natatio, which is well-preserved, is open during the guided visits of the amphitheater or on appointment for students and groups. For further information contact the Musée Saint-Raymond.