Yazılıkaya: village in Central Turkey, well-know for its Phrygian archaeological remains. It is also called "Midas City".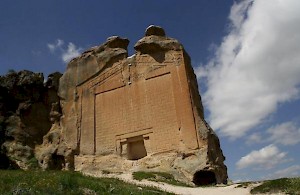 The archaeological site of the so-called Midas City is situated in the Eskişehir region in Central Anatolia, near the village of Yazılıkaya (which in Turkish means something like "rock inscription"). With a few exceptions, most of the Phrygian rock-cut monuments for which the site has become famous, date back to the sixth century BCE. In the 1960s, they have been investigated and documented by a French archaeological team, directed by Albert Gabriel.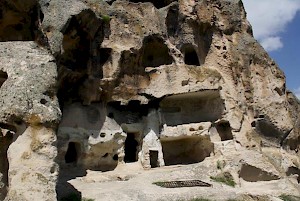 The so-called Midas Monument owes its name to the fact that the word Mida is used in an inscription on the upper left-hand side of the façade, which is almost eighteen meters high. Mida was mistranslated as Midas, the name of a legendary king of Phrygia; in fact, it is a surname of Cybele, the Phrygian Mother Goddess. The so-called tomb, which is older than the rest of the city and belongs to the eighth century BCE, was in reality a sanctuary. During the ceremonies, a statue of Cybele could be placed in the niche.
To the south of the Midas Monument lies a rock-cut necropolis with several Phrygian tombs. From here one can walk further on the plateau and reach another Phrygian rock-cut monument, which has remained unfinished. A little bit further you reach the impressive water cisterns, some with a flight of steps who leads to several huge underground cisterns.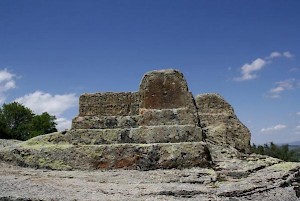 Via a flight of steps, you can proceed to the high acropolis, which is about 800 meters ling on 135 meters wide. You will have a splendid overall view of the site with an unfinished altar, rock tombs, and the magnificent Phrygian altar of the Mother-Goddess at the highest point of the acropolis. During religious festivities, a statue of a seated Cybele could be placed on this throne.
From here one can reach the other side of the site going downwards where you can see another several rock-cut tombs from the Phrygian era. There are also some Neo-Hittite reliefs.