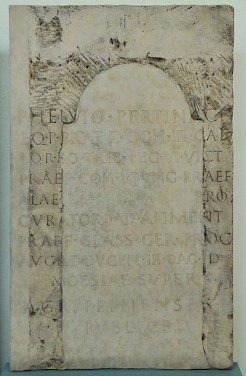 The career of Publius Helvius Pertinax, who was to be emperor of Rome in the first months of 193, is best known from the Historia Augusta.note[Historia Augusta, Pertinax, 1-2.] This late text mentions:
We know more details about Pertinax' career from an inscription that was found in Brühl, near Cologne. Time has treated it badly. First, its left edge was cut off, and then, the remaining part was reused in a sarcophagus. As a result, only the following fragments remain:
HELV
Q P P
OR E
RAE
AE
VRA
RAE
VG A
M
AGR
ACI
GAL
CT
AEF
RO
NTA
OC
D

S
Fortunately, Roman inscriptions are stereotypical, and once the four first letters were reconized as part of the name "Helvius", it became possible to fill in the missing lines.
P HELVIO ERTINACI
EQ P PRAEF COH IIII GAL
LOR EQ TRIB LEG VI VICT
PRAEF COH I TUNGR PRAEF
ALAE ……… PRO
CURATORI AD ALIMENT
PRAEF CLASS GERM PROC
AUG AD DUCENA III DAC ID
MOESIAE SUPER
AGRIPPINENSES
PUBLICE
If we write all the abbreviations, the full text is:
PVBLIO HELVIO PERTINACI
EQVO PVBLICO PRAEFECTO COHORTIS IIII GAL-
LORVM EQVITATAE TRIBVNO LEGIONIS VI VICTRICIS
PRAEFECTO COHORTIS I TVNGRORVM PRAEFECTO
ALAE ……… PRO-
CVRATORI AD ALIMENTA
PRAEFECTO CLASSIS GERMANICAE PROCVRATORI
AVGVSTI AD DVCENA III DACIARVM IDEM
MOESIAE SVPERIORIS
AGRIPPINENSES
PVBLICE
This can be translated as:
To Publius Helvius Pertinax, who was enrolled in the equestrian order, prefect of the Fourth (?) Regiment of Mounted Gauls, tribune of the Sixth Legion Victrix, prefect of the First (?) Tungrian Regiment, prefect of the .... Squadron, procurator of the food supply, prefect of the German Fleet, imperial procurator ducenarius in the Three Dacian Provinces and in Moesia Superior, have the inhabitants of Cologne erected this from public means.
This means that we can correct the Historia Augusta's reference to a prefecture of the grants to the poor on the Aemilian Way: it has to be the procuratorship of Rome's food supply (the annona). We also know more details to the already known outline of Pertinax' career: Pertinax' first prefecture was of one of a Gallic cavalry unit; his unit in Britain was the Sixth; he did not command one, but two units prior to his transfer to Italy; he was indeed commander of the German Fleet, and had not one but two ducenarian procuratorships. It is not a terribly shocking improvement of our knowledge of the past, but it is interesting that all this can be deduced from one, exceptionally damaged inscription.
Literature
H.-G. Kolbe, 'Der Pertinaxstein aus Brühl bei Köln' in: Bonner Jahrbücher 162 (1962) 407-420