"Tabula Leersumiana": modern name of a fragment of an ancient Roman inscription, found near modern Leersum.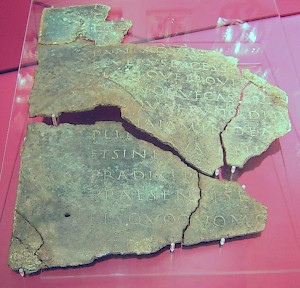 In the Roman Empire, important decisions by the municipal council, letters by the emperor, laws, and other important documents were often written on bronze and exposed on a place where everyone could see them. The fragments of the Flavian municipal law from Andalusia are a deservedly famous example.
In 2003, a very small fragment of a similar text was discovered in Leersum, a town in the Netherlands, north of the ancient limes. It contains a couple of words from a speech or a letter, but the text is too short to understand what it means. It is also unknown where the text originally belonged, although it is possible that it comes from a nearby limes fort like Maurik or Rijswijk. What we do know, however, is that the object was taken away from a Roman military settlement by German looters, who cut it into pieces to melt it in an oven
The surviving part consists of four large and five small matching pieces. The tablet was at least 27 centimeters high; it is now 21 centimeters wide, but none of the lines is complete, so it used to be wider, and it is possible that the text contained several columns.
IN...
In..
CA...
ca...
COH

ORTIS...

of the cohort?
TVR

.

(passive ending of a verb)
5
TANTAQVE COM...
and so much...
SEVERVS EXCESSIT C

VM ... PRVDEN-

Severus retreated with ... caution
TIA ATQVE PROVIDEN

TIA ... FORTV-

and discernment ... the good
NA QVOQVE CASTROR

VM...

luck of the camps as well ...
BVS QVAE FVIT AD ID...
... who has been at ...
10

DISCI

PLINA IAM INDE AD...
discipline already since ...
ET SINE QVA E RELI

CTIS

...

SV

-
and without which from those left behind...
PRA DIXI PER...
as I have said before ...
PRAESENTIS E...
of the one who was present ...
EIS QVO QVOMO

DO...

to them however ...
15
VEL CL...
or...
Although the text is very fragmentary, some conclusions are possible. The text is not a law or decree, but a letter or a speech, because in line 12, the words supra dixi, "as I said before", are used. Expressions like (fortuna) castrorum and disciplina prove that it was addressed to soldiers. The words Severus excessit , "Severus retreated" or "Severus advanced", may refer to the emperor Septimius Severus (193-211), and indeed, there is nothing in the inscription that contradicts a date at the end of the second or beginning of the third century.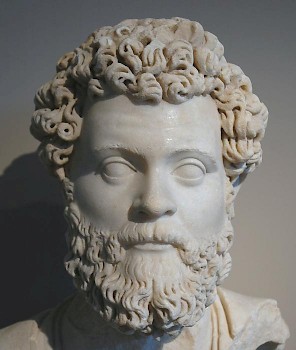 However, we would have expected the name of an emperor to be accompanied by the usual titulature, so it is probably better to assume that this text refers to a soldier named Severus. Granted, providentia is often mentioned as an imperial virtue, but the combination with (the restored words) prudentia and fortuna suggests that this text was a commendation of an officer who carefully managed a retreat and saved Roman lives. It is tempting to read this text like the official citations which today accompany the award of a military medal for valor. Perhaps, it was a text officially posted in the camp to remind soldiers of how to deal with the dangers they faced.

The text was published in l'Année Epigraphique 2004 (#984).
Thanks...
... to Bill Thayer.