Sillyum (Σίλλυον): town in ancient Pamphylia.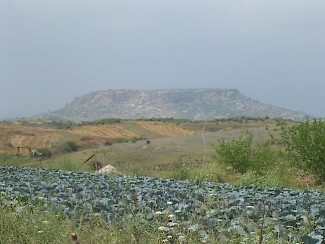 Sillyum was one of the towns of ancient Pamphylia, situated on a high and inaccessible table mountain, founded - according to legend - during the migrations that followed on the fall of Troy. Some confirmation is offered by the fact that a statue of Mopsus has been found at Sillyum, a man who is mentioned as founder of several Pamphylian towns, and known to have been a historical person.note[A Luwian-Phoenician bilingue from Karatepe mentions one Mopš/Mukšušas ancestor of an eighth-century king, and he is also mentioned in a thirteenth-century tablet from the Hittite capital Hattusa.] Like Termessus, Sillyum refused to surrender when Alexander the Great was in the neighborhood.
The town, which must essentially have been a place for refuge until then, became more important in the third century, when Sillyum started to mint its own coins. The oldest tombs in the necropolis date back to the third century as well. According to the Peutinger Map, travelers from Perge to Aspendus had to pass along Sillyum, which proves that it was an important town in the age of Augustus (when his right-hand man Agrippa created the map that is the source of the Peutinger Map). Most tombs date to the early Roman period.
Because the site is inaccessible, the ancient town has preserved pretty well. An ancient water-channel may be the oldest surviving monument. From the Hellenistic age are the Lower Gate, a hall that may have belonged to a gymnasium, the upper tiers of a theater, a temple, and a building with a remarkable inscription in the Pamphylian language. The hippodrome may be younger.

The most recent burials at the necropolis are from the sixth century CE, suggesting that by then, Sillyum had become a place of refuge again, not being inhabited under normal circumstances. A Byzantine building is the youngest ruin on the table mountain.