This page is a stub. It will be expanded to a full-fledged article.
Orchestra
Orchestra (Greek: ὀρχήστρα): the (semi)circular center of a Greek or Roman theater or odeon.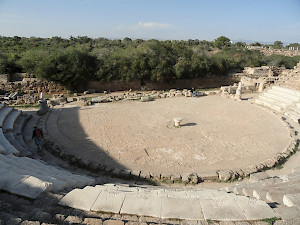 Originally, and as its name suggests, the orchestra was the dance floor in a Greek theater. It was circular, allowing for all kinds of movements. In the center could be a small altar, because theatrical shows were very much considered part of the cult of the god Dionysus. The play itself was performed on a low stage (skene) opposite the benches.
In a Roman theater, the stage was a bit higher and the orchestra was semicircular. This was logical, because in Roman performances, there was less dancing. Often, there was a parapet surrounding the orchestra, making it possible to use the orchestra for gladiatoral contests or animal hunts.