This page is a stub. It will be expanded to a full-fledged article.
Tabula ansata
Tabula ansata: modern name for an inscription in a rectangular form, with two "wings".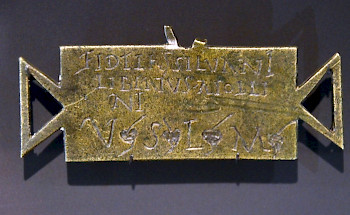 A tabula ansata is the modern name for a (almost always Latin) inscription that consists of a rectangular center with the text itself and two wing-like handles to the left and right. Like an Egyptian serekh or cartouche, this type of framework helped to stress the contents of the inscription, as if two big arrows were pointing at it.
The wings themselves could be decorated with flowers. Although the wings were usually triangular, they could be semicircular as well.
Triangular wings
Semicircular wings