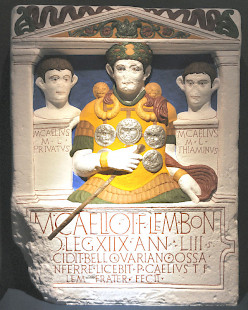 The cenotaph of Marcus Caelius and two of his freedmen is one of the most impressive archaeological discoveries related to the Battle in the Teutoburg Forest (9 CE), in which a coalition of Germanic tribes led by Arminius annihilated three Roman legions commanded by Publius Quinctilius Varus.
The monument, which was discovered in 1620, is not only one of the first and finest examples of Roman sculpture made north of the Alps, but also proves that among the lost units was the Eighteenth Legion. If the site where the cenotaph was found, Birten, is a reliable clue, this unit was stationed in the Fürstenberg basis south of modern Xanten.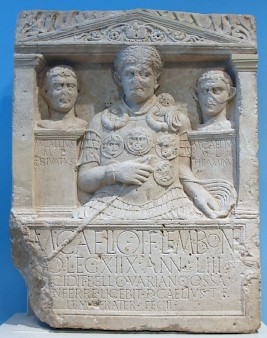 Marcus Caelius is shown with several decorations: a corona civilis, which he received because he saved a citizen's life, two torques of gold on his shoulders, armillae on his wrists, and five phalera on his chest. He was 53½ years old, and it is a bit strange to find him in the army at that age: if he enlisted when he was about twenty years old, which was normal, he might have left the army long time ago, although further periods with the reserve were often required.note[Cf. Tacitus, Annals 1.17.3.] But even then, serving more than thirty years is unusual, and it is likely that Caelius had shown himself to be a good manager, who had great responsibilities now that the Romans had decided to convert Germania into a province.
The monument has been damaged (the lower part is broken off) but the relief and inscription are intact. The epitaph:note[CIL 13.8648.]
Marco CAELIO Titi Filio LEMonia tribv BONonia
I Ordinis LEGionis XIIX ANNorvm LIII S
CECIDIT BELLO VARIANO OSSA
INFERRE LICEBIT Pvblivs CAELIVS Titi Filivs
LEMonis tribv FRATER FECIT (more...)
To Marcus Caelius, son of Titus, of the Lemonian district, from
Bologna, first centurion of the eighteenth legion. 53½ years old.
He fell in the Varian War. His bones
may be interred here. Publius Caelius, son of Titus,
of the Lemonian district, his brother, erected (this monument)
Today, the monument can be found in the Rheinisches Landesmuseum in Bonn.