This page is a stub. It will be expanded to a full-fledged article.
Eumenes I of Pergamon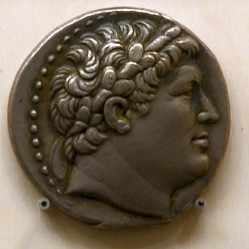 Successor of: Philetaerus
Relatives:
Father: Eumenes, brother of Philetaerus
Mother: Satyra
Main deeds
Adopted by Philetaerus.
263: Succeeds Philetaerus as lord of Pergamon and the valley of the Caicus; he behaves too independent in view of the Seleucid king Antiochus I Soter, who declares war.
261: Antiochus defeated.
Eumenes remains friendly to Antiochus' successor Antiochus II Theos, although he is an ally of Ptolemy II Philadelphus of Egypt in the Second Syrian War; and he pays tribute to the Galatians.
He adopts Attalus.
241: Death. Games are instituted in his honor, the

Eumenia

.
Succeeded by: Attalus I Soter