This page is a stub. It will be expanded to a full-fledged article.
Attalus I Soter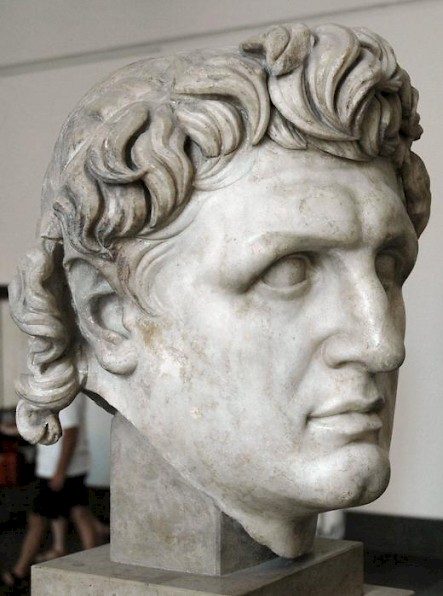 Successor of: Eumenes I
Relatives
Main deeds
270/269: Born
Adopted by Eumenes I
241: Succeeds to the throne
He refuses to pay tribute to the Galatians and defeats them near Pergamon; from now on, the Attalids present themselves as protectors of Greece against the barbarians; Attalus accepts the surname

Soter

, "Savior".
240: Outbreak of civil war in the Seleucid Empire; of Seleucus II Callinicus is challenged by Antiochus Hierax, who is defeated by Attalus. Until 227, the frontier of his zone of influence is at the Taurus.
Seleucus III Keraunos and his general Achaeus start to push back Attalus.
Attalus, employing Galatian mercenaries, conquers Greek towns along the southern shore of the Black Sea.
222: Death of Seleucus III; Achaeus proclaims himself king.
216: Attalus concludes an alliance with the Seleucid king Antiochus III the Great against Achaeus.
211: Attalus allies himself to the Aetolian League and (indirectly) to Rome, which is at war with the Carthaginians (Hannibal) and king Philip V of Macedonia. Pergamon acquires the isle of Aegina.
209: Attalus captures Oreus on Euboea, but is attacked at home by king Prusias I the Lame of Bithynia.
205: Peace of Phoenice between Macedonia and Rome, and between Bithynia and Pergamon.
204: The stone of Cybele sent to Rome
201: Philip V of Macedonia invades the Pergamene kingdom; undecided naval battle near Chios; Attalos asks Rome for support, and concludes an alliance with Athens and Rhodes, which is supported by the Romans, who launch the Second Macedonian War.
During this war, Attalus captures Oreus again and also obtains Andros.
197: Attempt to win over Boeotia for the Roman-Pergamene coalition; during a speech, Attalus has a heart attack; he dies in Pergamon and is succeeded by his son.
Succeeded by: Eumenes II Soter