This page is a stub. It will be expanded to a full-fledged article.
Eumenes III (Aristonicus)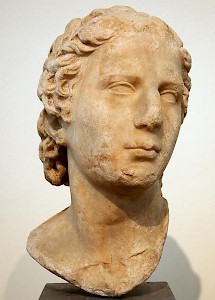 Successor of: Attalus III Philometor
Relatives
Main deeds
133: Attalus III Philometor, who has no children, leaves the Pergamene kingdom to the Romans.
Aristonicus does not accept this bequest and revolts against Rome. He accepts the name Eumenes III.
The cities of Pergamon and Ephesus do not support him, but he finds support in the countryside. The revolt becomes a social conflict between the suppressed people of the land and the rich urban people.
The ideals of the revolutionaries are defended by Blossius of Cumae, who was also a supporter of Tiberius Sempronius Gracchus.
131: Rome sends an army.
130: Eumenes III Aristonicus defeats the Roman consul Publius Licinius Crassus Dives Mucianus at Leucae.
129: The Roman commander Marcus Perperna besieges Eumenes at Stratonicea and captures him. He is brought to Rome and executed.