Albaniana (Alphen aan den Rijn)
Q2663417
Albaniana: fort in the Roman Rhine limes, modern Alphen aan den Rijn in the Netherlands.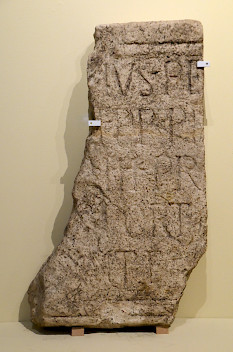 The Roman fort at Albaniana controlled the confluence of the small river Aar and the frontier river Rhine. It was situated directly opposite the confluence, even though there was a much drier place several hundreds of meters to the west.
A part of the wall and a gate were excavated in 2002-2003. A dendrochronological dating of the wood enables us to say that the fort was built after the state visit of Caligula to Germania Inferior in 40/41. This conclusion becomes almost inevitable when we take into account that about a quarter of the coins found at Alphen aan den Rijn dates back to the reign of this emperor, which lasted less than four years.
The fort was rebuilt on at least three occasions: in 50/60, after the Batavian Revolt (in 70), and after 160. There's inscription from the last years of the Roman emperor Septimius Severus (r.193-211), which refers to repairs after 208 CE.