Alinda (Greek Ἄλινδα): ancient town in Caria, modern Karpuzlu.
History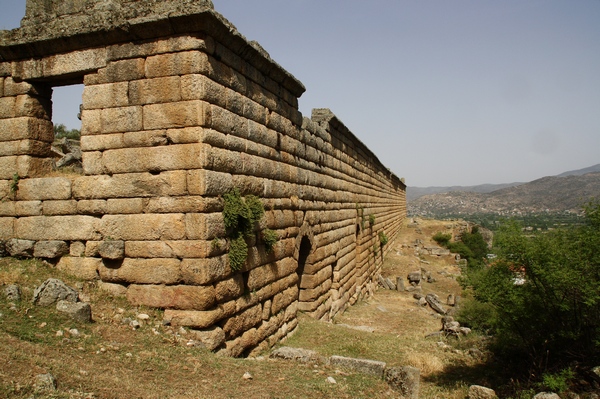 Alinda was a highly defensible mountain fortress overlooking a fertile plain in Caria. When Alexander the Great entered this part of the Achaemenid Empire in 334 BCE, he found the region in turmoil: there was a conflict between prince Pixodarus and princess Ada. The Macedonian king sided with the latter when she surrendered Alinda to him. In return, Alexander recognized her as satrap of Caria and allowed her to carry out the mopping-up operations after the siege of Halicarnassus.
Ada's popularity ensured the Carians' loyalty to Alexander, and Alinda may briefly have been called "Alexandria by Latmus". This town is not well-known and it is by no means certain that it is identical to Alinda. If it is, however, we know that a statue of Aphrodite by the Greek sculptor Praxiteles was erected in a sanctuary dedicated to Adonis.
Alinda rapidly Hellenized. By the mid 3rd century BCE the Seleucids established a garrison at Alinda. Near the summit of the acropolis, parts of the Hellenistic city wall and a two-storey square tower are still visible. The city issued its own coinage from the beginning of the second century BCE and was to continue this until the third century CE. After the demise of the Seleucid Empire, Alinda must have changed sides several times, but in the end it was Roman.
Roman City
Up a steep slope from the modern town is the well-preserved, 99 meters long and 15 meters high Hellenistic market building. Originally, it had three storeys of which the lower have remained largely intact. The first level consisted of pairs of individual shops, one behind the other, which opened onto a terrace to the south. The second storey was divided with a double row of columns and formed a single long hall, lighted by a large window to the west and narrow slits in the front wall. The top storey was level with and adjoined a flat open agora (30 x 30 m.) to the north.
Further up to the mountain is a largely intact theater, which dates back to the early second century BCE. It could offer accommodation to some five thousand people and was renewed during the reign of the emperor Augustus. There were thirty-five rows of seats. Beyond it is the acropolis, with Hellenistic walls and a superb tower, which may have been connected to the theater by a tunnel.
In a valley to the west, a section of an impressive Roman aqueduct is still visible.
Visit
The site of Alinda, directly north of the modern town of Karpuzlu, is about twenty kilometers west of Çine. A visit can easily be combined with Alabanda, which is halfway Çine and Karpuzlu. The visit is free and without danger.