Augusta Emerita, House of the Amphitheater
Augusta Emerita: Roman city in western Spain, modern Mérida, capital of the province of Lusitania.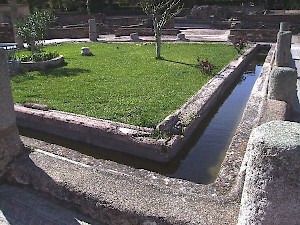 Directly outside the walls of Augusta Emerita was the group of buildings that is collectively known as the House of the Amphitheater. This complex was excavated in 1947 and includes a part of the city wall, of the San Lázaro aqueduct, a water tower, two houses, and a mausoleum.
One of the houses, built in the first century and discovered in 1992, contained some beautiful mosaics of fish and a wine harvest.