Ghirza Gh 82: Roman fortified farm in the Libyan desert.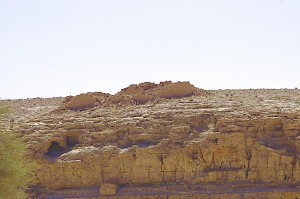 The photo shows one of the many fortified farms ("centenaria") along the upper Wadi Ghirza that are part of the Limes Tripolitanus, the Roman frontier in the Sahara desert. The central building measures about 17½ x 17½ meter, is about an hour southwest of the town of Ghirza, and controls a crossing of a wadi that is still in use.
In Graeme Barker e.a., Farming the Desert. The UNESCO Libyan Valleys Archaeological Survey (1996), this farm is known as Gh82.