Glanum: Roman village in southern France, modern St.Rémy-de-Provence.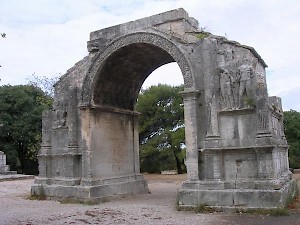 Several monuments of the Roman city of Glanum have survived. In the area that is called "Les antiques", you can see an ancient mausoleum and Glanum's northern gate.
It looks a bit like an honorific arch and must have been one before it was incorporated in the town walls, glorifies Rome and shows the deplorable fate of those who resist its armies. The monument was erected between 10 and 25 CE. The flowers on the arch may indicate the abundance brought to Gaul by the Romans.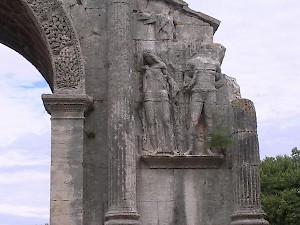 One of the most striking scenes on the arch of Glanum is a native woman who laments her fate together with a chained man. They are carried away to the triumph of an unknown Roman general. Notice, on the photo, how the artist has indicated that this couple is forcibly separated.