Italica, House of the Birds
Italica: Roman colony in western Andalusia, not far from Seville. Several second-century houses have been excavated.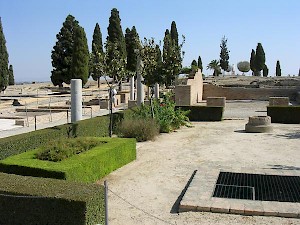 The site of Italica has for a substantial part been excavated. The mansions of the Hadrianic quarter, however, are the main delight of a visit to Italica.
The central mosaic in the House of the Bird Mosaic, which is the most Italian of all houses excavated in Italica, consists of thirty-five small square mosaics that surround a larger, central scene, also square. Unfortunately, this part of badly damaged and cannot be reconstructed. The thirty-five smaller scenes represent different species of birds, all walking.