Labranda or Labraunda (Greek Λάβρανδα): ancient sanctuary in Caria.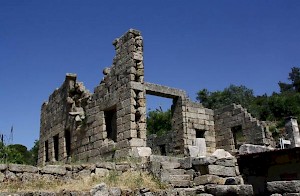 Labranda was a sacred precinct, in ancient times connected to Mylasa by a paved "Sacred Road". The site was excavated by a Swedish team between 1948 and 1953 and the excavations have revealed that a sanctuary existed on the site already in the fifth century BCE. The temple of Zeus was a prostylos with antae. Indeed, the Greek researcher Herodotus of Halicarnassus mentions a temple of Zeus Stratios at Labranda.note[Herodotus, Histories 5.119.]
However, the initiator of the planning of the hieron as we know it (i.e., the sacred place) was the Carian leader Maussolus of Halicarnassus (r.377-353 BCE); many of the structures were completely built or started in his time. Others were accomplished by his brother, Idrieus (r.351-344 BCE).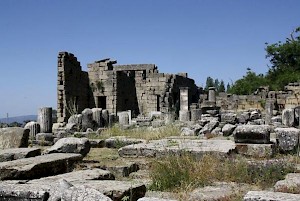 The following structures were completed in the reign of Maussollus: the north stoa, Andron B with its annexes and terrace, the large terrace wall south of the temple, the structure west of Andron B, the large flight of steps in the east and the large structures called palaces.
The structures started or completed in the time of Idrieus are: temple II, a peripteros of the Ionic order, terrace house II, Oikoi, Andron A with a terrace to the south, the well-house stoa, the east propylaea, the Doric house and the south propylaea with adjoining buildings.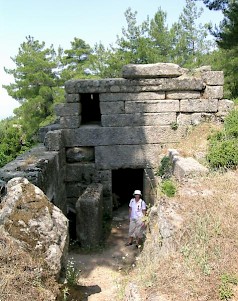 Androns A and B were doubtless megaron-type palaces reserved for the royal family, like the megara at Troy II and VI and at the citadel of the Phrygian capital Gordium. The structures named "oikoi" were houses, composed of two single rooms which never had an antechamber, in contrast to megara.
Similar oikoi are known from Larisa, Pergamon, and Priene. The ones at Labranda were probably, like terrace houses I and II, reserved for the priests. Andron A is the best preserved structure with windows, clearly revealing that windows were used in Greek architecture. Other structures showing the use of windows are the council chambers of Termessos and Alabanda.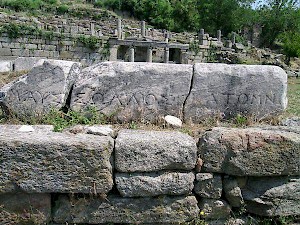 The remaining structures of Labranda date back to the Roman period: Andron C, the well-house with a terrace, the east baths, and the restored parts of the Doric house, the west stoa and adjoining terraces and the south baths. The east church and some additions in "oikoi" and Andron B date to the Byzantine period.
Getting there
The site of ancient Labranda is one of the best preserved ruins of Turkey, situated in the mountains, fourteen kilometers north of Milas. It is well signposted from Milas, but after a few kilometres the road leading to the site is very difficult for a normal car.