Neuss-Reckberg: auxiliary fort of the legionary base at Neuss (Germany).
Near the large legionary base of Neuss was a small fort at Reckberg, which is not fully understood. It was close to the river Rhine and appears to have been built in the mid-second century. The occupation of Reckberg lasted until the third century.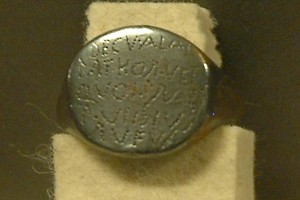 One of the units appears to have been a squadron called Ala Parthorum. A silver ring with an inscription mentions
DECV
RIONI
ALAE
PaRTHOR
VM
VET
ERANO
QVOI PRA
e
ES
t
P
VBLIVS
VIBIVS
RVFVS

which may be translated "to the retired decurio of the squadron of the Parthians that is commanded by Publius Vibius Rufus".