This page is a stub. It will be expanded to a full-fledged article.
Thera
Q433004
Thera (Greek Θήρα): island in the Aegean Sea, also known as Santorini.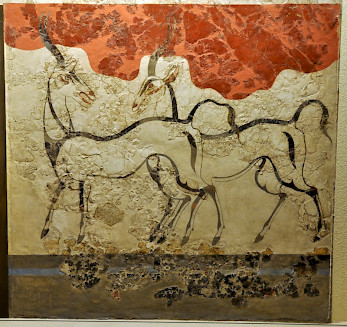 Thera is a volcanic island and best known for the "Minoan eruption", which took place in de seventeenth or sixteenth century BCE and is an important chronological marker in the Bronze Age. On the island itself, the settlement of Akrotiri was covered; on the nearby island of Crete, the event marks the break between the Old Palaces and the New Palaces.
For centuries, the island remained uninhabited, until settlers from Sparta established themselves on Thera. From here, Battus colonized Cyrene (c.630 BCE).note[Herodotus, Histories 4.147-159.]
Thera was part of the Peloponnesian League at the beginning of the Archidamian War (431-421 BCE), but became part of Athens' Delian League. One century later, we find the island as a port in the Ptolemaic Empire. Later, it fell into Roman hands.