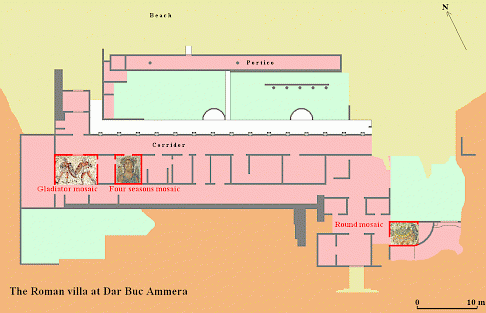 There were many Roman villas along the Libyan shore. The villa of Dar Buc Ammera, not far from Lepcis Magna, is one of them. It is famous for its mosaics, which are to be seen in the Archaeological Museum of Tripoli. This villa is also known as Villa Zliten, after the town three kilometers east of it.
Round Mosaic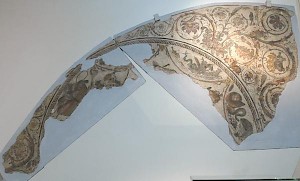 Probably the finest mosaic of the Villa Dar Buc Ammera is the round one, which contains all kinds of birds in a splendid tree. Realism is not too great, however: there are also some mythological aquatic animals and even fish in this tree.
The decision to add sea animals to the tree is less strange than it may appear at first sight: the villa was built close to the shore. This mosaic was probably made in the late first century, when the villa was built. The individual stones are extremely fine (opus vermiculatum).
Below, more aquatic creatures and two nests of birds.