This page is a stub. It will be expanded to a full-fledged article.
Augustales
Augustales: Roman priests serving in the imperial cult.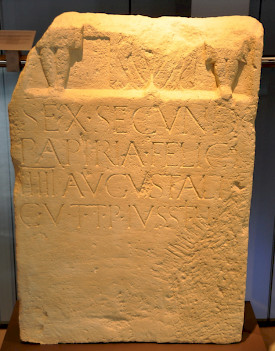 The cult of the genius Augusti, "the protective spirit of the emperor Augustus", in the colonies and other towns of the Roman Empire was in the hands of the augustales. This was one of the lesser priesthoods. Typically, these priests were either people without full Roman citizenship or former slaves, but they could be rich and pay the expenses related to this office. If they performed well as augustales, their sons could try to obtain more prestigious offices, which were otherwise only accessible for people with full citizenship.
Because the augustales had several tasks (performing sacrifices, organizing ritual banquets and gladiatoral contests...), they were working in teams. For example, the inscription shown on this page mentions that the augustales of Xanten were seviri, "six men".note[EDCS-11100836.] The number of former augustales could be quite large. An inscription from Herculaneum mentions no less than 450 of them.note[EDCS-59100075.]