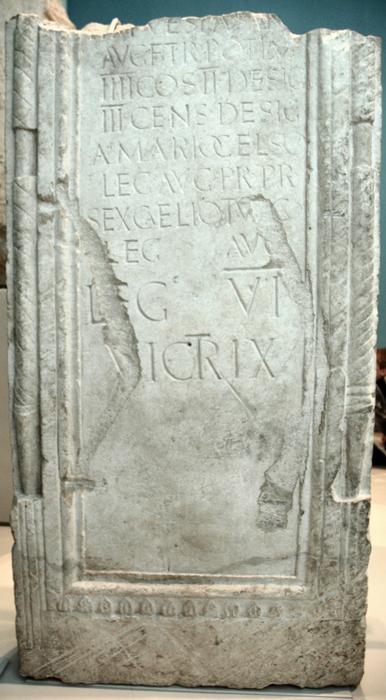 Description

Xanten, Victory Monument

Details

...]
T(ito) Imp(eratoris) Vespasian[i]
Aug(usti) f(ilio) tr(ibunicia) pot(estate) imp(eratore)
IIII co(n)s(ule) II desig(nato)
III cens(ore) desig(nato)
A(ulo) Mario Celso
leg(ato) Aug(usti) pr(o) pr(aetore)
Sex(to) Caelio Tu[s]co
leg(ato) Aug(usti)
leg(io) VI Victrix

Date

73 CE

Inscriptionnr

EDCS-08901051

Creator

Museum

Licence

Linked

Batavian Revolt (9), Germania Inferior (4), Legio VI Victrix, Xanten, Xanten: Victory Monument

Categories

Tags
High-resolution versions of our original photographs are available for purchase for you to use in printed publications or elsewhere. Contact us for further information. Be sure to make a note of the URL of the photos you are interested in. We do not sell these photos for profit, only to cover the maintenance costs of the website.