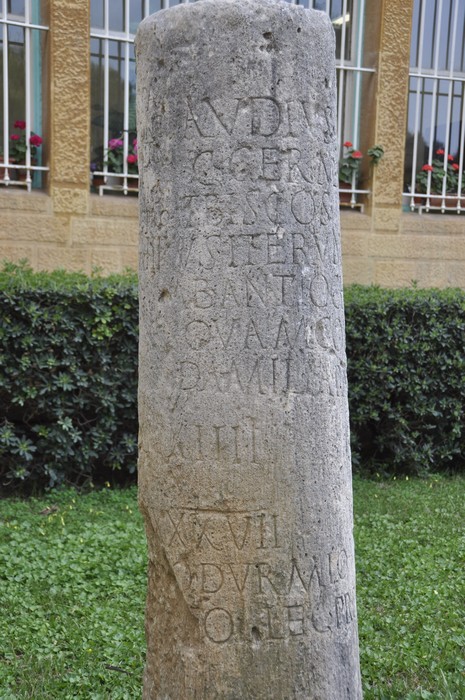 Description

Beirut, Milestone from the age of Nero (EDCS-16500100)

Details

[Nero Cl]audiu[s]
[Caesar A]ug(ustus) Germanicus
[trib(unicia) pote]s(tate) bis co(n)s(ul)
[designat]us iterum
[viam] ab Antiochea
[fecit ad n]ovam(?) colon[ia]m
[Ptolemai]da milia passu(um)
[CCXX]XIIII
[3 X]XXXVII
[C(aio) Ummidi]o Durmio
[Quadrat]o leg(ato) pro pr(aetore)

Date

ca. 56 CE

Inscriptionnr

EDCS-16500100

Creator

Museum

Licence

Linked

Categories

Tags
High-resolution versions of our original photographs are available for purchase for you to use in printed publications or elsewhere. Contact us for further information. Be sure to make a note of the URL of the photos you are interested in. We do not sell these photos for profit, only to cover the maintenance costs of the website.