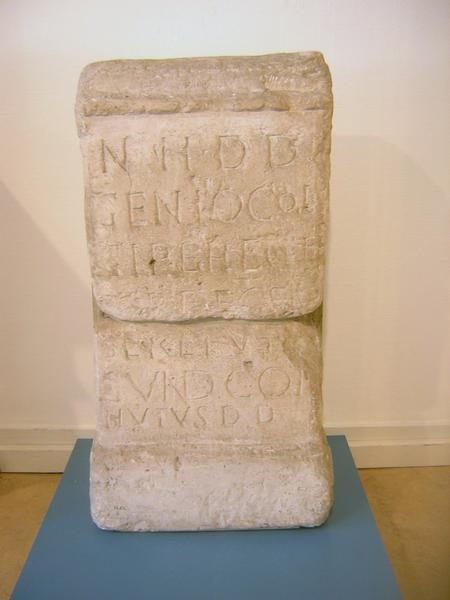 Description

Dedication by Ulpius December and Verecundus Cornutus

Details

[I]N Honorem Domvs Divinae
GENIO COLLE-
GI PEREGRinorvm
VLPivs DECEM-
BER ET VER[E-]
CVNDvs COR-
NVTVS Dono Dedervnt

To honor the divine dynasty,
to the protective spirit of the college
of foreign residents,
Ulpius Decem-
ber and Vere-
cundus Cor-
nutus gave this [altar] as a present.

Inscriptionnr

EDCS-11100898

Creator

Museum

Licence

Linked

Categories

Tags
High-resolution versions of our original photographs are available for purchase for you to use in printed publications or elsewhere. Contact us for further information. Be sure to make a note of the URL of the photos you are interested in. We do not sell these photos for profit, only to cover the maintenance costs of the website.