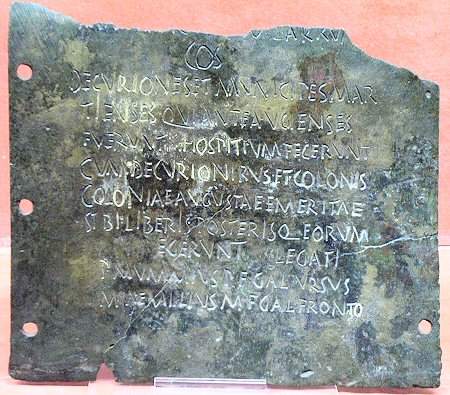 Description

A treaty in which it is agreed that there will be mutual hospitality (EDCS-13900379)

Details

[M(arco) Aemilio Lepid]o L(ucio) Arrun[tio]
co(n)s(ulibus)
decuriones et municipes Mar-
tienses qui antea Ugienses
fuerunt hospitium fecerunt
cum decurionibus et colonis
coloniae Augustae Emeritae
sibi liberis posterisq(ue) eorum
egerunt legati
P(ublius) Mummius P(ubli) f(ilius) Gal(eria) Ursus
M(arcus) Aemilius M(arci) f(ilius) Gal(eria) Fronto

Date

6 CE

Inscriptionnr

EDCS-13900379

Creator

Museum

Licence

Linked

Categories

Tags
High-resolution versions of our original photographs are available for purchase for you to use in printed publications or elsewhere. Contact us for further information. Be sure to make a note of the URL of the photos you are interested in. We do not sell these photos for profit, only to cover the maintenance costs of the website.