The Louvre Imperator Inscription
This inscription, known as CIL1².614, was found in Alcala de los Gazules (ancient Lascuta) near modern Cádiz in southern Spain. It documents the first use of the title of "imperator".
Lucius AIMILIVS Lucii Filius INPEIRATOR DECREIVIT
VTEI QVEI HASTENSIVM SERVEI
IN TVRRI LASCVTANA HABITARENT
LEIBEREI ESSENT. AGRVM OPPIDVMQVe
QVOD EA TEMPESTATE POSEDISENT
ITEM POSSIDERE HABEREQVE
IOVSIT DVM POPVLVS SENATVSQVE
ROMANVS VELLET. ACTus INCASTREIS
Ante Diem XII Kalendis FEBRuarii.

Lucius Aemilius, son of Lucius, Imperator, decreed
that the inhabitants of the Tower of Lascuta who lived in servitude to the
Hastensians shall be free. As to the land and town
which they owned at the time,
he ordered that their ownership shall remain unaltered,
so long as the People and Senate
of Rome deem fit. Done in the camp
on 19 January.
Comment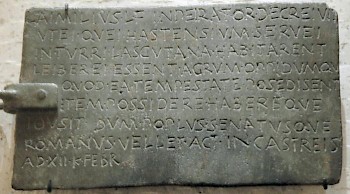 This text, known as CIL1².614, is written on a small bronze plate that was found in modern Cádiz (Spain); today, it is in the Louvre in Paris. It states that the citizens of a town called Tower of Lascuta, which used to be subjects - the text even calls them "slaves" - of their neighbors in Hasta, were released from their duties.
It is interesting because the official, Lucius Aemilius Paullus (proconsul of Further Spain in 189 BCE), is called imperator. This is the first references to this title after it had been awarded to ;Hasdrubal the Fair and Publius Cornelius Scipio. The formula "People and Senate of Rome" is not the more common phrase "Senate and People of Rome".