Limmu List (Middle Bronze Age)
Limmu List: list of Assyrian officials who gave their names to a given year. Two parts survive, one dealing with the reigns of Erišum I until Išme-Dagan I (twentieth until eighteenth century BCE) and one dealing with the years 858-699 BCE.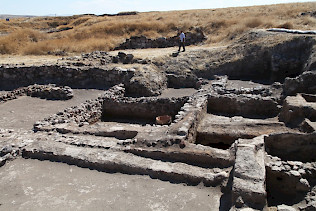 The Limmu List or Assyrian Eponym List was a list Assyrian officials (the limmus, or eponymous magistrates) whose names were given to the years. This list was the foundation of the chronology of ancient Assyria, and still is an important tool to reconstruct ancient Mesopotamian chronology. Two parts remain, one dealing with the first quarter of the second millennium (the Middle Bronze Age) and one dealing with years 858-699 BCE (the Iron Age).
On this page, you will find the oldest of the two fragments, which has been published as text #9 in Jean-Jacques Glassner's Chroniques Mésopotamiennes (1993). (The other, younger surviving Eponym List can be found here.) New finds in Kültepe (ancient Kanesh) have made it possible to expand this list, now called the Revised Eponym List. Absolute dates are now within reach.
In the first column, you will find a relative date (REL: Revised Eponym List).
In the second column, you will find the regnal years of several Assyrian kings; colors indicate their reigns. (E = Erišum; I = Ikunum; ŠK = Šarru-ken, PA = Puzur-Aššur II; NS = Naram-Sin; ŠA = Šamši-Adad I; ID = Išme-Dagan I.)
The third column contains the name of the official and (in the second part of this table) the events that were recorded. This list is based on G. Barjamovic, Th. Hertel, and M.T. Larsen in Ups and Downs at Kanesh. Chronology, History, and Society in the Old Assyrian Period (2012).
The final column offers proposed absolute dates, based on S.W. Manning e.a., "Integrated Tree- Ring-Radiocarbon High-Resolution Timeframe to Resolve Earlier Second Millennium BCE Mesopotamian Chronology" (published on 13 July 2016 in PLoS One).
The absolute dates are based on the trading post at Kültepe, which was destroyed after REL 138 and REL 141, which must be more or less contemporary with the construction of the nearby palace of king Waršama. This is confirmed by the solar eclipse in REL 127, which must be the one of 24 March 1838 BCE.
Part 1: Reconstructed list

REL
BCE
1
E 1
Šu-Išstar son of Abila
1964
2
Šukkutum son of Išuhum
1963
3
Iddin-ilum son of Kurub-Ištar
1962
4
Šu-Anum son of Isalaya
1961
5
Inah-ili son of Kiki
1960
6
Suetaya son of Ir'ibum
1959
7
Daya son of Išuhum
1958
8
Ili-elliti
1957
9
Šamaš-tab
1956
10
E 10
Agusa
1955
11
Idnaya son of Šudaya
1954
12
Quqadum son of Buzu
1953
13
Puzur-Ištar son of Bedaki
1952
14
La-qepum son of Babidi
1951
15
Šu-Laban son of Kurub-Ištar
1950
16
Šu-Belum son of Išuhum
1949
17
Nabi-Sin son of Šu-Ištar
1948
18
Hadaya son of Elali
1947
19
Ennam-Aššur son of Begaya
1946
20
E 20
Ikunum son of Šudaya
1945
21
Ismid-ilum son of Idida
1944
22
Buzutaya son of Išuhum
1943
23
Šu-Išstar son of Ammaya
1942
24
Iddin-Aššur
1941
25
Puzur-Aššur
1940
26
Quqadum son of Buzu
1939
27
Ibni-Adad son of Susaya
1938
28
Erišum son of Adad-rabi
1937
29
Minanum son of Begaya
1936
30
E 30
Iddin-Sin son of Šalim-ahum
1935
31
Puzur-Aššur son of Idnaya
1934
32
Šuli son of Uphakum
1933
33
La-qepum son of Zukua
1932
34
Puzur-Ištar son of Erisua
1931
35
Agua son of Adad-rabi
1930
36
Šu-Sin son of Silliya
1929
37
Ennam-Aššur son of Begaya
1928
38
Enna-Sin son of Pussanum
1927
39
Ennamum son of Uphakum
1926
40
E 40
Buzu son of Adad-rabi
1925
41
IK 1
Šuli son of Šalim-ahum
1924
42
Iddin-Sin brother of Šuli
1923
43
Ikunum son of Šudaya
1922
44
Dan-Wer
1921
45
Šu-Anum
1920
46
Ili-massu son of Aššur-tab
1919
47
Šu-Hubur son of Šuli
1918
48
Idia/Idua son of Sulili
1917
49
La-qepum son of Puzur-Laba
1916
50
IK 10
Šu-anum
1915
51
Uku son of Bela
1914
52
Aššur-malik son of Panaka
1913
53
Dan-Aššur son of Puzur-Wer
1912
54
Šu-Kubum son of Ahuahi
1911
55
IK 15
Erišum son of Iddin-Aššur
1910
56
ŠK 1
Aššur-malik son of Agatum
1909
57
Aššur-malik son of Ennaniya
1908
58
Ibisua son of Sin-nada
1907
59
Baziya son of Bal-Tutu
1906
60
Puzur-Ištar son of Sabasiya
1905
61
Pišah-ili son of Adin
1904
62
Asqudum son of La-qepum
1903
63
Ili-pilah son of Damqum
1902
64
Qulali
1901
65
ŠK 10
Susaya
1900
66
Amaya
1899
67
Iphurum son of Ili-ellat
1898
68
Kudanum son of La-qepum
1897
69
Ili-bani son of Ikunum
1896
70
Šu-Kubum son of Susaya
1895
71
Quqidi son of Amur-Aššur
1894
72
Abiya son of Nur-Sin
1893
73
Šu-Ištar son of Šukkutum
1892
74
Baziya son of Šep-Alim
1891
75
ŠK 20
Šu-Ištar son of Ikunum
1890
76
Abiya son of Šu-Dagan
1889
77
Salliya son of Šabakura
1888
78
Ibni-Adad son of Baqqunum
1887
79
Aham-arši son of Malkum-išar
1886
80
Sukkaliya son of Minamun
1885
81
Iddin-Aššur son of Kubidi
1884
82
Šudaya son of Ennamun
1883
83
Al-tab son of Pilah-Aššur
1882
84
Aššur-damiq son of Abarsisum
1881
85
ŠK 30
Puzur-Nirah son of Puzur-Sin
1880
86
Amur-Aššur son of Karriya
1879
87
Buzuzu son of Ibbi-Sin
1878
88
Šu-Hubur son of Elali
1877
89
Ilišu-rabi son of Baziya
1876
90
Ali-ahum son of Inah-ali
1875
91
Tab-Aššur son of Šuharum
1874
92
Elali son of Ikunum
1873
93
Iddin-abum son of Narbitum
1872
94
Adad-bani son of Iddin-Aššur
1871
95
ŠK 40
Aššur-iddin son of Šuli
1870
96
PA 1
Aššur-nada son of Puzzur-Anna
1869
97
Kubiya son of Karriya
1868
98
Ili-dan son of Elali
1867
99
Silulu son of Uku
1866
100
Aššur-nada son of Ili-binanni
1865
101
Ikun-pi-Ištar son of Ikua
1864
102
Buzutay son of Šuli
1863
103
PA 8
Innaya son of Amuraya
1862

Part 2: CM 9

From the beginning of the reign of Naram-Sin ... from the eponomy of ...
104
NS 1
Šu-Sin.
1861
105
Aššur-malik.
1860
106
Aššur-imitti.
1859
107
Enna-Sin.
1858
108
In the eponymy of Akutum, ... took ... Masiam-ili.
1857
109
Mas-ili son of Erišum
1856
110
Iddin-ahum.
1855
111
In the eponymy of Samaya, Aminum took Šaduppum.
1854
112
In the eponymy of Ili-alum, Sin-abum took the land of Sit.
1853
113
NS 10
In the eponymy of Ennam-Anum, ...
1852
114
In the eponymy of Ennam-Aššur, Ipiq-Adad entered the house of his father.
1851
115
In the eponymy of Enna-Sin, ...
1850
116
In the eponymy of Hanna-Narum, Aminum defeated Ipiq-Adad,
1849
117
In the eponymy of Dadiya, ...
1848
118
In the eponymy of Kapatiya, Ipiq-Adad defeated Aminum.
1847
119
In the eponymy of Išme-Aššur, Ipiq-Adad took Ziqquratum.
1846
120
In the eponymy of Aššur-muttabbil, Ipiq-Adad ...
1845
121
In the eponymy of Šu-Nirah, ...
1844
122
In the eponymy of Iddin-abum, Sin-abum ...
1843
123
NS 20
In the eponymy of Ili-dan, ...
1842
124
Aššur-imitti.
1841
125
Buziya.
1840
126
In the eponymy of Dadiya, king Šamši-Adad was born.
1839
127
In the eponymy of Puzur-Ištar, a solar eclipse happened; death of Aminum.note

[24 March 1838 BCE.]

1838
128
Isaya
1837
129
Abu-Šalim
1836
130
Aššur-re'is
1835
131
Tab-Aššur
1834
132
Šu-Rama
1833
133
NS 30
Sin-Išmeanni
1832
134
Aššur-malik.
1831
135
In the eponymy of Dan-Ea, taking of Hupšum.
1830
136
In the eponymy of Enna-Sin, flood in a remote land
1829
137
NS 34
Aššur-balati.
1828
138
Enna-Aššur.
1827
139
Itur-Aššur.
1826
140
In the eponymy of Šu-bêlum, Ila-kabkabu took Suprum.
1825
141
In the eponymy of Šarrum-Adad, the man of Elam defeated Ipiq-Adad, and king Šamši-Adad entered the house of his father.
1824
142
Šu-Laban.
1823
143
In the eponymy of Aššur-imitti, the Lullu defeated the king in Lazapatum.
1822
144
In the eponymy of Dadaya, Mut-abbih ...
1821
145
In the eponymy of Dadaya, ditto, Ipiq-Adad took Arrapha.
1820
146
In the eponymy of Ah-šalim, the taking of Gasur.
1819
147
Usur-ša-Ištar,
1818
148
In the eponymy of Kataya, ...
1817
149
In the eponymy of Šu-Sin, ...
1816
150
In the eponymy of Abu-šalim, the taking of Sin-abušu of Nerebtum.
1815
151
In the eponymy of Šudaya, ...
1814
152
In the eponymy of Šu-Dadum, the taking of Ne...
1813
153
In the eponymy of Aššur-tukulti, Šamši-Adad defeated the man of Unnini, and Mut-Ia... defeated.
1812
154
In the eponymy of Puzur-Ištar, Šamši-Adad ...
1811
155
In the eponymy of Atanah, Ipiq-Adad defeated ... and took the land of ...
1810
156
In the eponymy of Erišum, Šamši-Adad defeated ... in Dur-...
1809
157
Aššur-ennam.
1808
158
In the eponymy of Inib-Ištar, Ipiq-Adad died.
1807
159
Aššur-Bêl-malkim.
1806
160
Belanum
1805
161
Sukkallum
1804
162
Amur-Aššur
1803
163
Aššur-nišu
1802
164
Munawwirum
1801
165
ŠA 1
Idnayanote[Šamši-Adad takes Aššur.]
1800
166
Dadaya
1799
167
Puzur-Nirah
1798
168
Abiya
1797
169
Edinum
1796
170
Aššur-taklaku
1795
171
Išim-Sin
1794
172
Adad-bani
1793
173
Abi-šagiš
1792
174
ŠA 10
Tab-silli-Aššur
1791
175
Iddin-Aššur
1790
176
Namiya
1789
177
Ahu-Šarri
1788
178
Dadaya
1787
179
Ennam-Aššur
1786
180
In the eponymy of Atanum, Šamši-Adad defeated twelve kings; Iahdun-Lim, king of Mari, ... these kings returned ...
1785
181
In the eponymy of Aššur-taklaku, Šamši-Adad defeated ...
1784
182
In the eponymy of Haya-malik, [

Šamši-Adad captured Mari

].
1783
183
Šalim-Aššur
1782
184
ŠA 20
In the eponymy of Sin-muballit, Šamši-Adad took the land of ...
1781
185
In the eponymy of Reš-Šamaš, Išme-Dagan defeated ...
1780
186
In the eponymy of Ibni-Adad, Šamši-Adad took the land of ...
1779
187
In the eponymy of Aššur-imitti, Šamši-Adad defeated ... and took it. Daduša took the land of ..., the land of Me-Turan, the land of ...
1778
188
In the eponymy of Ili-ellati, ...
1777
189
In the eponymy of Rigmanum, Muna...
1776
190
In the eponymy of Ikun-piya, Muna... defeated ... and Šamši-Adad ... Me-Turan ... for Dadusa ...
1775
191
In the eponymy of Asqudum, Šamši-Adad took Qabra.
1774
192
In the eponymy of Aššur-malik, Išme-Dagan defeated Ahazum and Šamši-Adad captured Nurrugum and captured these nine kings: Kibrum, king of [...; ..., king of ...; ..., king of ...]; Yašub-Adad, king of Ahazum; [..., king of ...; ..., king of ...]; Yašub-Lim, king of [...; ..., king of ..., ..., king of ...]; he gave them as booty to Daduša.
1773
193
In the eponymy of Ahiyaya, the Turukkeans opened hostilities. Šamši-Adad and Išme-Dagan defeated the Turukkeans and the ... in Burullan; Yasmah-Adad defeated the Yaminites and unified the banks of the Euphrates.
1772
194
ŠA 30
In the eponymy of Awilaya, Mutu-Bisir ... defeated ... at the gate of Saggaratum.
1771
Total ... years,note

[Colophon.]

until the victory of the gate of Saggaratum. Hand of Habdu-malik. Limi-Dagan the man who dictated.

Part 3: Reconstructed list

195
Nimar-Sin
1770
196
Adad-banu
1769
197
ŠA 33
Tab-silli-Aššurnote[Death of Šamši-Adad; year 18 of Hammurabi of Babylon.]
1768
198
ID 1
Ennam-Aššur
1767
199
Aššur-emuqi
1766
200
Abu-Šalim
1765
201
Pussanum
1764
202
Ikun-pi-Ištar
1763
203
Ahiyaya
1762
204
Beliya
1761
205
Ili-bani
1760
206
Aššur-taklaku
1759
207
ID 10
Sassapum
1758
208
Ahu-waqar
1757
209
Kizurum
1756
210
Dadiya
1755
211

I-a-am-a-ha-a

(?)
1754
212
Adad-bani
1753
213
Ennam-Aššur
1752
214
Attaya
1751
215
Aya
1750
216
Azubiya
1749
217
ID 20
Kurkudanum
1748
218
Sabrum
1747
219
Hadiu
1746
220
Dadiya
1745
221
Aya
1744
222
Zizaya
1743
223
Adad-bani
1742
224
Habil-kenum
1741
225
Amur-Ištar
1740
226
Ipiq-Ištar
1739
227
ID 30
Possible candidates: Ahiyaya son of Adunaya, Aššur-kašid son of Silli-ahum, Aššur-nišu son of Ili-elliti, Enna-Sin son of Aššur-tab, Išme-ilum son of Aššur-emuqi, Šu-beli, Tutaya son of Usur-piya, Warad-sin, and Zaya son of Beliya







1738
228
1737
229
1736
230
1735
231
1734
232
1733
233
1732
234
1731
235
1730
236
Puzur-...
1729
237
ID 40
Šumi-ilabrat
1728
238
Qišti-ili
1727
239
Pilah-Sin
1726
240
Nimar-Kubi
1725
241
Aššur-taklaku
1724
242
Buzua
1723
243
Usur-ša-Aššur
1722
244

A-hi-a-tal

(?)
1721
245
Puhanum
1720
246
Hahiya
1719
247
Dadiya
1718
248
Išme-kittum
1717
249
Aššur-muttabbil
1716
250
Asirum
1715
251
Ennaya
1714
252
Ištar-tulid
1713
253
Edinum
1712
254

A-da-ri-A-šur

(?)
1711
255
Anaku-ana-Aššur
1710