Tetrarchy: system of imperial succession, developed by the Roman emperor Diocletian.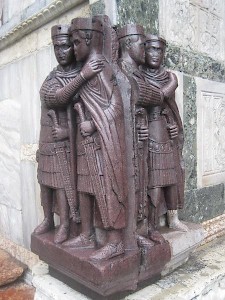 One of the great problems of the Roman government during the third century had been the uneasy succession. Any successful general could and would claim the throne. Another problem was that only a few of these had been able to unify the empire. At the beginning of his reign, Diocletian accepted this latter fact: he recognized Maximianus as his co-ruler. From 286 on, the empire was to have two emperors (augusti).
In 293, the system was improved. Both emperors appointed a crown-prince, called a caesar. One day, the augusti would retire, and the caesares would become augusti themselves, and appoint new caesares. Diocletian and Maximianus were serious about this project, and even passed over Maximianus' son Maxentius when they were looking for capable caesares. Eventually, Diocletian accepted Galerius as his intended successor; Constantius I Chlorus became the caesar of Maximianus. In May 305, the augusti did indeed lay down their powers and retired from public life.
The new augusti, Constantius and Galerius, appointed new caesares: Severus and Maximinus Daia. The new team is usually called the "second tetrarchy". For the first time since times immemorial, the transfer of power had been without troubles and bloodshed.
Unfortunately, no one could have prepared for the early death of Constantius, less than fifteen months after his succession (July 306). As augustus, he was of course succeeded by his caesar Severus, but the soldiers of the dead augustus - the Sixth legion Victrix - proclaimed Constantius' son caesar. His name was Constantine. Although the young man was clearly capable (as events were to show) his accession was illegal, and the fact that he was recognized ("third tetrarchy") had a lot to do with another usurpation: Maximianus' son Maxentius felt that he should have been made caesar. In the autumn of 306, he proceeded to Rome, was recognized by the Senate, and asked his father for help. Maximianus returned from retirement and in the spring of 307, he forced Severus to abdicate.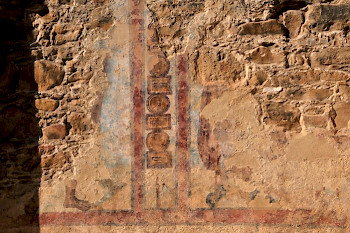 For one reason or another, Maximianus thought that Constantine would be a better emperor than his son. The former emperor was again recognized as augustus by Constantine, and for a while it seemed that father and son would go to war with each other. Eventually, a conference was organized in Carnuntum (November 308), which was also attended by Diocletian. It was agreed that Maximianus would again retire, that Constantine was to be recognized as caesar in the west, and that a new man, named Licinius, would be augustus. In the east, Galerius and Maximinus Daia remained augustus and caesar. Maxentius, although an ally of Constantine, was not recognized as member of the fourth tetrarchy, and technically remained an usurper.
For two-and-a-half years, stability returned, but the death of Galerius, who had been some sort of elder statesman and had stabilized the system, died. His caesar Maximinus Daia now became augustus -inofficially, he had already used this title since 310- but his prromotion created a problem. Licinius, who was officially augustus in the west, was in fact staying in the east, and fell out with Maximinus Daia; therefore, he allied himself to Constantine (311), recognizing him as augustus in the west. At the same time, Maximinus Daia allied himself to Maxentius.
The two coalitions came to blows in 312, when Constantine crossed the Alps and defeated Maxentius in the battle of the Milvian Bridge, which became famous because it is associated with Constantine's conversion to Christianity. In 313, Licinius defeated Maximinus Daia, and this was the end of the tetrarchic system. The two remaining augusti recognized each other until 324, when Constantine defeated Licinius and became sole ruler of the Mediterranean world.
The two augusti were usually associated with the gods Jupiter and Hercules. When Constantine claimed to have had a vision of the Sun God, he essentially announced his departure from the tetrarchic ideology.note[Panegyrici Latini VI(7).21.4-5.]