This page is a stub. It will be expanded to a full-fledged article.
Constantius I Chlorus
Constantius I Chlorus: emperor of the Roman world (r. 305-306).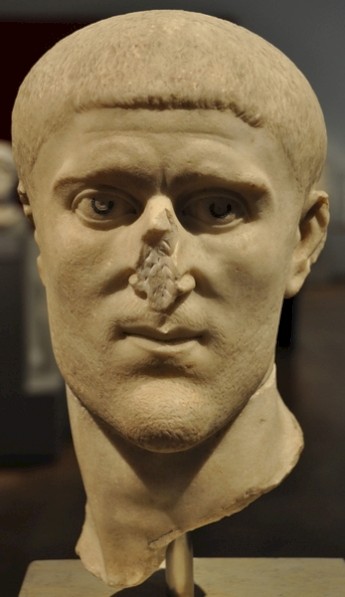 Names:
31 March 250: Julius Constantius
1 March 293: Flavius Valerius Constantius Caesar Herculius
1 May 305: Imperator Caesar Gaius Flavius Valerius Constantius
25 July 306: natural death
Nickname: Chlorus ('the pale one')
co-emperor of Galerius; ruled in the west
Successor of: Maximianus
Relatives:
father: Flavius Dalmatius
mother: Julia Constantia
first wife: Helen

second wife:

Theodora (stepdaughter of Maximian)

children: Flavius Dalmatius, Julius Constantius, Hannibalianus, Julia Constantia, Anastasia, Eutropia
Main deeds
250 Born in Illyricum
c.273 Birth of Constantine
Military tribune under Probus
c.284 Praeses of the Dalmatians
289 Marriage to Theodora
292 Constantius distinguishes himself in a war against the Alamans
293 Founding of the First Tetrarchy: the emperors Diocletian and Maximianus appoint Galerius and Constantius I Chlorus as caesares; all four men accept the title Germanicus Maximus
293 Constantius captures Gesoriacum (Boulogne), which was held by the British usurper Carausius. In Britain, Carausius is replaced by Allectus.
294 Consul (with Galerius); Diocletian defeats the Sarmatians; Constantius accepts the title Sarmaticus Maximus
295 Galerius fight against the Persians (?); Constantius accepts the title Persicus Maximus

Constantius captures Londinium

296 Consul II (with Diocletian VI); conquers Britain; Allectus defeated and killed; accepts the title Britannicus Maximus and adds Carpicus Maximus to commemorate Diocletian's successes against the Carpi
298 Galerius defeats the Sasanian king Narseh and Constantius accepts the titles Medicus Maximus, Adiabenicus Maximus, and Persicus Maximus II; Maximianus in Carthage
300 Consul III (with Galerius III); beginning of a protracted war in the Rhineland; accepts, after Galerius' successes along the Danube, the title Sarmaticus Maximus II
301 Monetary reform; edict on Maximum Prizes; Constantius fights against the Germanic tribes, Galerius against the Carpi; both accept the titles Germanicus Maximus II and Carpicus Maximus II
302 Consul IV (with Galerius IV); accepts the titles Germanicus Maximus III, Sarmaticus Maximus III and Carpicus Maximus III
303 accepts the titles Germanicus Maximus IV and Carpicus Maximus IV; beginning of the Great Persecution of the Christians
304 End of the war in the Rhineland and along the Danube; the two caesares accept the titles Germanicus Maximus V and Carpicus Maximus V
305 Consul V (with Galerius V); Diocletian and Maximianus resign; Second Tetrarchy: they are succeeded by Galerius and Constantius I Chlorus, who appoint as caesares Maximinus Daia and Severus II; his son Constantine joins him
Late 305 Constantius' second expedition to Britain, where he and his son Constantine fight against the Picts; accepts the title Britannicus Maximus II
306 Consul VI (with Galerius VI);
July 25, 306: Dies in Eburacum (York); the soldiers of the Sixth Legion Victrix proclaim his son Constantine emperor.
New legions: I Flavia Gallicana Constantia; I Flavia Martis; XII Victrix
Succeeded by: Severus II; Constantine I the Great