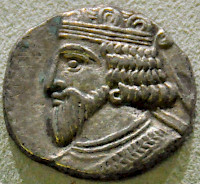 In 78 CE, the Parthian king Vologases I died. He was succeeded by Vologases II, who appears to have claimed that he was Vologases' son, and by Pacorus II, a brother of Vologases I. The details about the civil war are unknown, but in 80, Pacorus was in control of the full Parthian Empire.
However, during the reign of Vologases I, the eastern provinces, especially Hyrcania, had been unquiet. According to the Roman historian Tacitus, these problems started with an Arsacid prince named Vardanes, continued for several years, and required "numerous campaigns".note[Tacitus, Annals 15.1.] In the end, Vologases nilly-willy granted a treaty to the rebels.note[Tacitus, Annals 15.2.] It is in precisely this region that Pacorus II had to face a pretender, Artabanus III.
It is certain that he belonged to the Arsacid dynasty, because this is written on his coins. They can all be dated after c.80 CE. He was, at least at the beginning of his revolt, strong enough to support an usurper in the Roman Empire, the "false Nero" who revolted against the emperor Titus (r.79-81).note[Zonaras, History 11.18.]
Artabanus' coinage came to an end in about 90 CE, which suggests that Pacorus had managed to reunite the Parthian Empire in that year.
Note
The chronology of the Arsacid kings of the Parthian Empire is less well-understood than, for example, the sequence of Seleucid and Ptolemaic kings or the emperors of Rome. This information is based on the researches by G.R.F. Assar, as published in "Iran under the Arsakids, 247 BC – AD 224/227" in: Numismatic Art of Persia (2011).