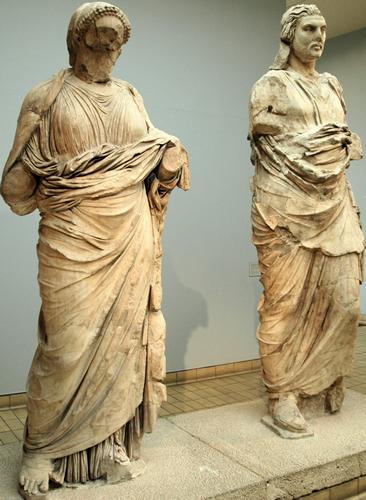 Artemisia was a daughter of Hecatomnus, the founder of the Hecatomnid house that had ruled Caria since the beginning of the fourth century. She was married to her brother Maussolus, who had benefited from the fact that his Persian overlord, the Achaemenid king Artaxerxes II Mnemon, had been involved in a war against the Cadusians, and his successor Artaxerxes III Ochus, showed more interest in Egypt. Maussolus had gained a remarkably independent position, had subdued Greek towns, and had been able to conclude treaties with Greek towns (like Cnossus) as if he were a sovereign king.
When he died in 353, Artemisia succeeded him. She followed a careful policy towards Artaxerxes III, but continued Maussolus' Greek policy. This provoked a conflict with nearby Rhodes, which decided to conquer her capital, Halicarnassus, and started a siege. However, the invaders made a big tactical mistake, which can be understood from the map to the left (which shows another siege of Halicarnassus, but the situation had not changed). From her palace on the Royal island Artemisia noticed that they had occupied the eastern harbor, where they could not see what happened in the western harbor. In a lightning raid, she was able to surprise and defeat the Rhodians. Her rule was now unchallenged, but she died within two years.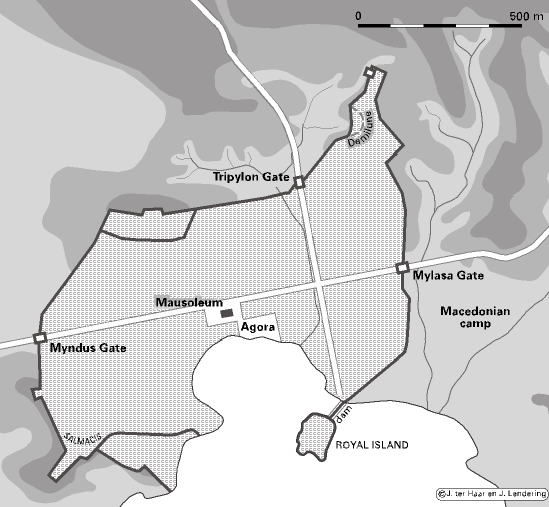 Artemisia is best known because she invited Greek artists to finish the Mausoleum, the sepulchral monument of her husband, which must have been her final resting place too. This building was world famous and is reckoned among the Seven Wonders of the Ancient World.
Artemisia was succeeded by Idrieus and Ada, her brother and sister, who were, like Maussolus and Artemisia, husband and wife.