Satraps (Old Persian khšaçapâvâ): the governors of the satrapies (provinces) of the ancient Achaemenid Empire.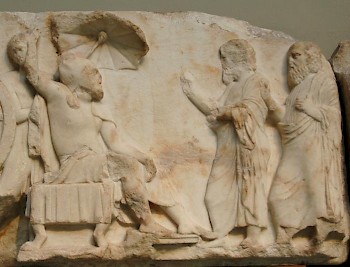 The title satrap is older than the Persian Empire: the word khšaçapâvâ is Median (it means "protector of the realm") and was used to describe the vassal kings of the Median Empire. The Median and Persian kings sent out inspectors with the title "eye of the king" to control and supervise their satraps, who founded local dynasties and could act quite independently.
There are several catalogues of the satrapies of the Achaemenid empire. The best known are
These texts allow us to see how the territorial units of the Persian Empire slowly changed in the course of two centuries. The names, which are not always the same, are offered in the table below.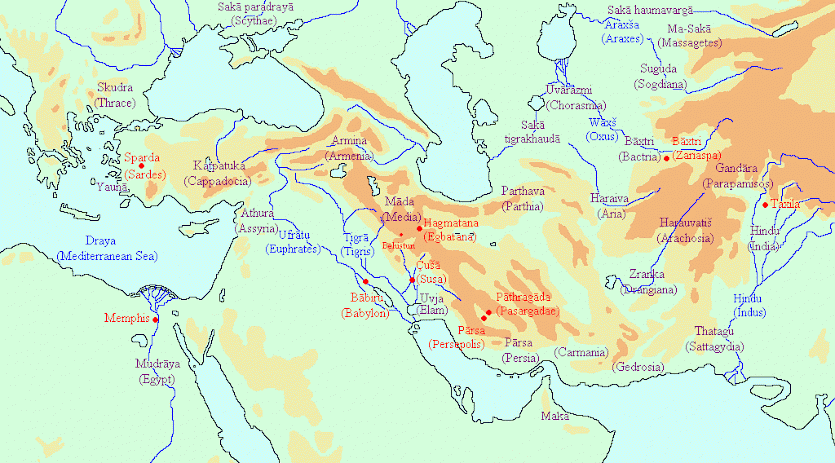 Persis
| | |
| --- | --- |
| Herodotus, Army List | Persians |
| Arrian, Anabasis | Persis |
Elam
| | |
| --- | --- |
| Darius, Behistun | Elam |
| Herodotus, Tribute List | District VIII: Susa and the Cissians |
| Darius, Naqš-e Rustam | Elam |
| Xerxes, Daiva Inscription | Elam |
| Herodotus, Army List | Cissians |
| Arrian, Anabasis | Susiana |
Babylonia and Assyria
| | |
| --- | --- |
| Darius, Behistun | Babylonia and Assyria |
| Herodotus, Tribute List | District IX: Babylon and Assyria |
| Darius, Naqš-e Rustam | Babylon, Assyria |
| Xerxes, Daiva Inscription | Babylon, Assyria |
| Herodotus, Army List | Assyrians and Chaldaeans |
| Arrian, Anabasis | Babylon, Assyria |
Media
| | |
| --- | --- |
| Darius, Behistun | Media |
| Herodotus, Tribute List | District X/a: Ecbatana, Media, Paritacania |
| Darius, Naqš-e Rustam | Media |
| Xerxes, Daiva Inscription | Media |
| Herodotus, Army List | Medes |
| Arrian, Anabasis | Media |
Orthocorybantians
| | |
| --- | --- |
| Herodotus, Tribute List | District X/b: Orthocorybantians |
| Darius, Naqš-e Rustam | Sacae with pointed caps |
| Xerxes, Daiva Inscription | Sacae with pointed caps |
| Arrian, Anabasis | Sacae |
Pamphylia
| | |
| --- | --- |
| Herodotus, Tribute List | District I/a: Pamphylia |
| Herodotus, Army List | Pamphylia |
Yaunâ
| | |
| --- | --- |
| Darius, Behistun | Yaunâ |
| Herodotus, Tribute List | District I/b: Lycians, Magnesians, Ionians, Aeolians, Milyans |
| Darius, Naqš-e Rustam | Yaunâ |
| Xerxes, Daiva Inscription | Yaunâ by the sea |
| Herodotus, Army List | Lycia, Doris, Ionia, Ionians from the islands, Aiolia, Milyans with Cabalians and Lasonians |
| Arrian, Anabasis | Ionia |
Macedonia
Greece
Caria
| | |
| --- | --- |
| Herodotus, Tribute List | District I/c: Carians |
| Darius, Naqš-e Rustam | Caria |
| Xerxes, Daiva Inscription | Caria |
| Herodotus, Army List | Caria |
| Arrian, Anabasis | Caria |
Lydia
| | |
| --- | --- |
| Darius, Behistun | Sardes |
| Herodotus, Tribute List | District II: Lydians, Mysians, Lasonians, Cabalians,Hytennians |
| Darius, Naqš-e Rustam | Sardes |
| Xerxes, Daiva Inscription | Sardes |
| Herodotus, Army List | Lydia and Mysians, Cabalians and Lasonians |
| Arrian, Anabasis | Lydia |
Saspires and Alarodians
| | |
| --- | --- |
| Herodotus, Tribute List | District XVIII/a: Saspires, Alarodians |
| Herodotus, Army List | Saspires and Alarodians |
Matiene
| | |
| --- | --- |
| Herodotus, Tribute List | District XVIII/b: Matienians |
| Herodotus, Army List | Matienians |
Paphlagonia
| | |
| --- | --- |
| Herodotus, Tribute List | District III/a: Paphlagonians |
| Herodotus, Army List | Paphlagonians |
Hellespontines
| | |
| --- | --- |
| Darius, Behistun | Countries by the sea |
| Herodotus, Tribute List | District III/b: Hellespontines, Asian Thracians, Mariandynians |
| Herodotus, Army List | Hellespontines, Asian Thracians (or Bithynians), Ligyans, Mariandynians |
| Arrian, Anabasis | Greater Phrygia |
Cappadocia
| | |
| --- | --- |
| Darius, Behistun | Cappadocia |
| Herodotus, Tribute List | District III/c: Syrians, Phrygians |
| Darius, Naqš-e Rustam | Cappadocia |
| Xerxes, Daiva Inscription | Cappadocia |
| Herodotus, Army List | Syrians (= Cappadocians) |
| Arrian, Anabasis | Cappadocia |
Armenia
| | |
| --- | --- |
| Darius, Behistun | Armenia |
| Herodotus, Tribute List | District XIII: the Armenians and "their neighbors as far as the Black Sea", Pactyica |
| Darius, Naqš-e Rustam | Armenia |
| Xerxes, Daiva Inscription | Armenia |
| Herodotus, Army List | Phrygians and Armenians, Pactyans |
| Arrian, Anabasis | Armenia |
Cilicia
| | |
| --- | --- |
| Herodotus, Tribute List | District IV: Cilicians |
| Herodotus, Army List | Cilicians |
| Arrian, Anabasis | Cilicians |
Syria
| | |
| --- | --- |
| Darius, Behistun | Beyond the river |
| Herodotus, Tribute List | District V: Phoenicia; Palestina; Cyprus |
| Herodotus, Army List | Phoenicia and Palestina; Cyprus |
| Arrian, Anabasis | Syria, Palestina |
Egypt
| | |
| --- | --- |
| Darius, Behistun | Egypt |
| Herodotus, Tribute List | District VI/a: Egypt |
| Darius, Naqš-e Rustam | Egypt |
| Xerxes, Daiva Inscription | Egypt |
| Herodotus, Army List | Egypt |
| Arrian, Anabasis | Egypt |
Libya
| | |
| --- | --- |
| Herodotus, Tribute List | District VI/b: Libya, Cyrene, Barca |
| Darius, Naqš-e Rustam | Libya |
| Xerxes, Daiva Inscription | Libya |
| Herodotus, Army List | Libyans |
Punjab
| | |
| --- | --- |
| Herodotus, Tribute List | District XX: Indians |
| Darius, Naqš-e Rustam | India |
| Xerxes, Daiva Inscription | India |
| Herodotus, Army List | Indians and Asiatic Ethiopians |
| Arrian, Anabasis | Taxila |
Gandara
| | |
| --- | --- |
| Darius, Behistun | Gandara |
| Herodotus, Tribute List | District VII/a: Gandarians, Dadicae, Aparytae |
| Darius, Naqš-e Rustam | Gandara |
| Xerxes, Daiva Inscription | Gandara |
| Herodotus, Army List | Gandarians and Dadicae |
Sattagydia
| | |
| --- | --- |
| Darius, Behistun | Sattagydia |
| Herodotus, Tribute List | District VII/b: Sattagydians |
| Darius, Naqš-e Rustam | Sattagydia |
| Xerxes, Daiva Inscription | Sattagydia |
Paricania
| | |
| --- | --- |
| Herodotus, Tribute List | District XVII: Paricanians, Asiatic Ethiopians |
| Herodotus, Army List | Paricanians |
| Arrian, Anabasis | Oreitians, Ichthyophagi, Gedrosia, Carmania |
Caspians
| | |
| --- | --- |
| Herodotus, Tribute List | District XI: Caspians, Pausicae, Pantimathi, Daritae |
| Xerxes, Daiva Inscription | Men of Âkaufaciyâ? |
| Herodotus, Army List | Caspians and Hyrcanians (?) |
| Arrian, Anabasis | Mardians, Hyrcanians |
Maka
| | |
| --- | --- |
| Darius, Behistun | Maka |
| Herodotus, Tribute List | District XIV/a: Myci |
| Darius, Naqš-e Rustam | Maka |
| Xerxes, Daiva Inscription | Maka |
| Herodotus, Army List | Myci |
Drangiana
| | |
| --- | --- |
| Darius, Behistun | Drangiana |
| Herodotus, Tribute List | District XIV/b: Sarangians, Thamanaeans, Utians, those deported to the Persian Gulf, Sagartians |
| Darius, Naqš-e Rustam | Drangiana |
| Xerxes, Daiva Inscription | Drangiana |
| Herodotus, Army List | Sarangians, Utians and deported ones, Sagartians |
| Arrian, Anabasis | Drangiana |
Arachosia
| | |
| --- | --- |
| Darius, Behistun | Arachosia |
| Darius, Naqš-e Rustam | Arachosia |
| Xerxes, Daiva Inscription | Arachosia |
| Arrian, Anabasis | Arachosia |
Bactria
| | |
| --- | --- |
| Darius, Behistun | Bactria |
| Herodotus, Tribute List | District XII: Bactrians |
| Darius, Naqš-e Rustam | Bactria |
| Xerxes, Daiva Inscription | Bactria |
| Herodotus, Army List | Bactrians |
| Arrian, Anabasis | Bactria |
Amyrgian Sacae
| | |
| --- | --- |
| Darius, Behistun | Sacae |
| Herodotus, Tribute List | District XV: Sacae and Caspians |
| Darius, Naqš-e Rustam | Amyrgian Sacae |
| Xerxes, Daiva Inscription | Amyrgian Sacae |
| Herodotus, Army List | Amyrgian Sacae |
Dahae
| | |
| --- | --- |
| Xerxes, Daiva Inscription | Dahae |
| Arrian, Anabasis | Dahae |
Parthia
| | |
| --- | --- |
| Darius, Behistun | Parthia |
| Herodotus, Tribute List | District XVI/a: Parthians |
| Darius, Naqš-e Rustam | Parthia |
| Xerxes, Daiva Inscription | Parthia |
| Herodotus, Army List | Parthians |
| Arrian, Anabasis | Parthia |
Aria
| | |
| --- | --- |
| Darius, Behistun | Aria |
| Herodotus, Tribute List | District XVI/b: Arians |
| Darius, Naqš-e Rustam | Aria |
| Xerxes, Daiva Inscription | Aria |
| Herodotus, Army List | Arians |
| Arrian, Anabasis | Aria |
Chorasmia
| | |
| --- | --- |
| Darius, Behistun | Chorasmia |
| Herodotus, Tribute List | District XVI/c: Chorasmians |
| Darius, Naqš-e Rustam | Chorasmia |
| Xerxes, Daiva Inscription | Chorasmia |
| Herodotus, Army List | Chorasmians |
| Arrian, Anabasis | Chorasmia |
Sogdia
| | |
| --- | --- |
| Darius, Behistun | Sogdia |
| Herodotus, Tribute List | District XVI/d: Sogdians |
| Darius, Naqš-e Rustam | Sogdia |
| Xerxes, Daiva Inscription | Sogdia |
| Herodotus, Army List | Sogdians |
| Arrian, Anabasis | Sogdia |
Pontus
| | |
| --- | --- |
| Herodotus, Tribute List | District XIX: Moschi, Tibareni, Macrones, Mosynoeci, Mares |
| Herodotus, Army List | Moschi, Tibareni, Macrones, Mossynoeci, Mares |
Colchis
| | |
| --- | --- |
| Herodotus, Tribute List | Colchians and the tribes of the Caucasus |
| Herodotus, Army List | Colchians |
Ethiopia
| | |
| --- | --- |
| Herodotus, Tribute List | Ethiopians |
| Darius, Naqš-e Rustam | Kush |
| Xerxes, Daiva Inscription | Kush |
| Herodotus, Army List | Ethiopians |
Arabia
| | |
| --- | --- |
| Darius, Behistun | Arabia |
| Herodotus, Tribute List | Arabs |
| Darius, Naqš-e Rustam | Arabia |
| Xerxes, Daiva Inscription | Arabia |
| Herodotus, Army List | Arabs |
| Arrian, Anabasis | Arabia |
Scythia
| | |
| --- | --- |
| Darius, Naqš-e Rustam | Sacae across the Sea |
Thrace
| | |
| --- | --- |
| Darius, Naqš-e Rustam | Thrace |
| Xerxes, Daiva Inscription | Thrace |