This page is a stub. It will be expanded to a full-fledged article.
Orodes III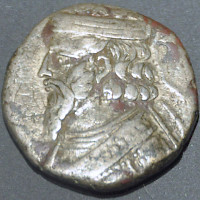 Shortly after the violent death of king Phraataces, the Parthian nobility elected Orodes III as king.note[Josephus, Jewish Antiquities 18.44.] He was a son of Phraates IV and, therefore, Phraataces' younger brother. According to Flavius Josephus, his reign was as short as it was cruel, and he was murdered during a banquet or a hunt.note[Josephus, Jewish Antiquities 18.45.] His brother and successor Vonones I soon found himself at war with Artabanus II.
Note
The chronology of the Arsacid kings of the Parthian Empire is less well-understood than, for example, the sequence of Seleucid and Ptolemaic kings or the emperors of Rome. This information is based on the researches by G.R.F. Assar, as published in "Iran under the Arsakids, 247 BC – AD 224/227" in: Numismatic Art of Persia (2011).