Pliny the Younger or Gaius Plinius Caecilius Secundus (62-c.115): Roman senator, nephew of Pliny the Elder, governor of Bithynia-Pontus (109-111), author of a famous collection of letters.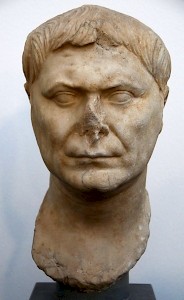 When the last king of Bithynia died in 74 BCE, he bequeathed his country (which belonged to the Greek world) to the Romans. However, it took seven years for the new masters to pacify the country, because the king of nearby Pontus, Mithridates VI, had set eyes on the neighboring state. Ultimately, the Roman general Pompey the Great defeated the enemy, and a new province was created: Bithynia-Pontus.
Pompey launched a program of forced urbanization and settled many veterans in new towns in the hinterland. Julius Caesar, Augustus, Tiberius and Claudius continued this policy, and it comes as no surprise that the province boasted of towns with names like Pompeiopolis, Juliopolis, Germanicopolis (after Tiberius' nephew) and Claudiopolis. After Augustus, the Anatolian plateau was settled as well.
This caused problems in the old cities along the coast. They no longer controlled the trade routes, and many enterprising people moved to the new towns. Of course, this was a crisis in slow motion: the ancient economy was based on agriculture, and this sector remained unaffected. But during a famine, it was more difficult to buy food, and certain articles were no longer easily obtainable.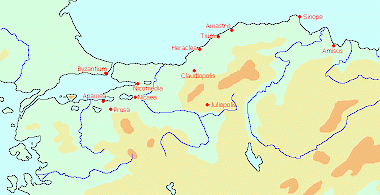 One aspect of the crisis deserves special attention. There are indications that the population of the old cities decreased (and we can imagine that people settled in the boom towns on the Anatolian plateau). When the population of a region decreases, this usually results in a fall of the rent, because demand diminishes. This meant that the rich land-owners of Bithynia-Pontus lost income.
However, a rich man had expensive responsibilities. He was more or less obliged to pay for new buildings, and if it was possible, these new buildings had to be more impressive than those built by other people. The rich Bithynians still felt this responsibility and were still involved in this competition. Accordingly, they spent a lot of money, money they no longer had. At the end of the first century, the financial crisis could no longer be ignored, and Trajan sent Pliny to create order.