Bziza: village in northern Lebanon, site of a Roman temple.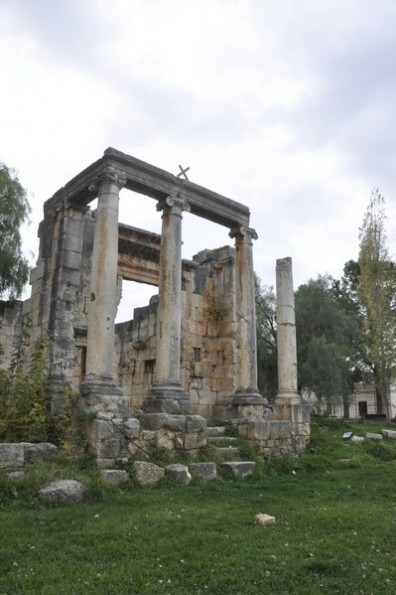 There are many Roman sanctuaries between the Nahr Abu Ali, which empties itself into the Mediterranean Sea near Tripoli, and the Nahr al-Jahwaz, which has its delta near Batrun: for example at Amioun, the temple was replaced by a church that is still in use, and at Aïn Akrine, where two sanctuaries were beautifully placed on a hilltop. The temple of Bziza, which was built in the second century, is more modest.
Built in the Ionic building order, it is has been well-preserved because it was converted into a church in the early Byzantine age. Inside, you can still see the niches in which statues must have stood.
When the temple was converted into a church, its orientation, which used to be from the northwest to the southeast, was changed. A new entrance was made in the southwest, while the northeast wall was replaced by an unusual double apse.