Carvium: site of a Roman fort and Drusus' mole, modern Herwen in the Netherlands.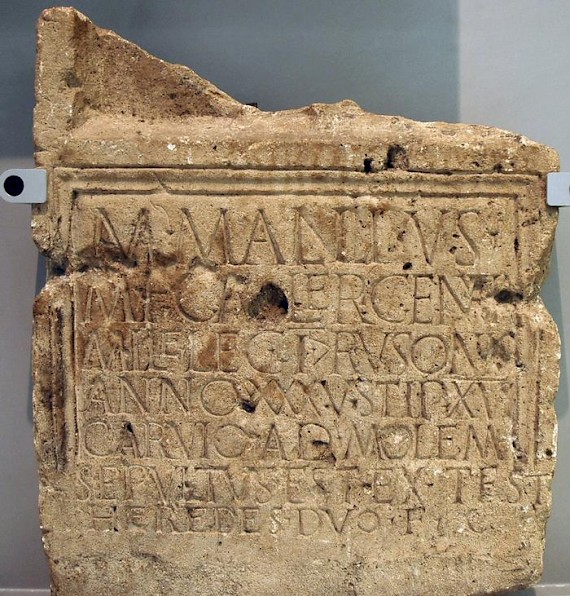 The remains of this auxiliary fort at Carvium can probably be found somewhere in the meanders of the Rhine. Stray finds suggest that the military settlement was occupied between the second quarter of the first century and the fourth century. This suggests that it was a normal fort: built during the reign of Caligula (r.37-41) or during Corbulo's command of the army of Germania Inferior in 47, restored after the Batavian revolt (69-70), rebuilt after Hadrian's visit to the Low Countries in 121, again rebuilt during the reign of the Severan emperors, destroyed in 275, and reoccupied in the fourth century. There is no evidence for this reconstruction, but it is the normal history of any Roman fort on the south bank of the Lower Rhine.
An inscriptionnote[EDCS-10900462.] mentions the presence of the Cohors II civium Romanorum equitata pia fidelis in Carvium, probably in the second century.
Near Carvium may have been a pre-Roman sanctuary, as the name Carvium is derived from a German word *Harh-wiha or *Har-wia-, "sacred space". There was also a large mole, which almost certainly served to regulate the flow of the Rhine. According to the Histories of the Roman historian Tacitus, it was destroyed during the Batavian revolt (in the summer of 70), but it may have been restored. The exact location is not yet known, but an inscription that was dredged from the Rhine mentions the mole.
The name Carvium survives as Herwen, the name of a modern town. On the site of what may have been the fort, there's now a marina.