Nihata: site in the Bekaa valley with three Roman temples, modern Niha. The name is Syriac and means "tranquil".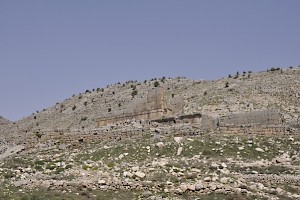 There are two temples in the isolated valley of Hosn Niha, some three kilometers up along the road from the two main temples at Niha. They are situated on the same artificial terrace, and were built at the end of the second or the beginning of the third century. The larger of the two shrines remained unfinished; its large Corinthian-style capitals were not ready when work was abandoned.
It is not possible to identify the deities venerated at Hosn Niha, but it is certain that Christians took over this place in Late Antiquity and converted the largest temple into a Byzantine basilica, and that later, a fort was built over here (hence the name Hosn). "Hosn Niha" might be translated as "Tranquility Base".